Saturday, December 13, 2008
BLACK BEARS SWEEP WEEKEND SERIES WITH 5-1 WIN OVER UNION
Freshman Gustav Nyquist scores twice for Maine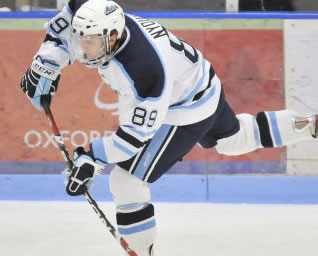 Gustav Nyquist scored two goals for the Black Bears
ORONO, Maine -- The University of Maine men's ice hockey team got the weekend sweep with a 5-1 victory over visiting Union College on Saturday night. The Black Bears improve to 10-5-1 on the season as the Dutchmen slide to 8-7-1. Maine was led by Gustav Nyquist (Malmo, Sweden) who netted two goals in the game.
The Black Bears struck first with a goal at 5:31 into the first period. Will O'Neill (Salem, Mass.) passed the puck from the right point to Lem Randall (Snow Lake, Manitoba) waiting inside the left point. Randall slide it down to Spencer Abbott (Hamilton, Ontario) positioned to the netminder Corey Milan's right. Abbott fired the shot and it trickled in off of Milan's pads and into the goal. It was Abbott's second score of the season.
Maine boosted its lead with a power-play goal by Nyquist at 18:44 of the first period. Matt Duffy (Windham, Maine) fed Chris Hahn (Fort Qu'Appelle, Saskatchewan) stationed to the right of Milan. Hahn ripped a shot that Milan chipped, but the puck rolled through the crease to the waiting stick of Nyquist. Nyquist put the shot just inside the post past Milan's leg for his team-leading eighth goal of the season.
The Black Bears came alive near the end of the second period as well, scoring with only one minute remaining the period. Abbott sent a pass to Keif Orsini (Montreal, Quebec) at the inside edge of the right circle. Orsini's shot was tipped by Lem Randall (Snow Lake, Manitoba) as it went by to give Maine the 3-0 lead. It was Randall's second goal of the season.
Robby Dee (Plymouth, Minn.) joined in the scoring as the Black Bears added to their lead at 4:09 into the third period. Captain Simon Danis-Pepin (Vaudreuil-Dorion, Quebec) set up Jeff Dimmen's (Colorado Springs, Colo.) shot that Milan stopped cold, but he couldn't lock down the puck down as Dee stuffed it in for his first goal of the season.
The Dutchmen got onto the board just under three minutes later Stephane Boileau grabbed the puck on a Maine turnover. Boileau hit defenseman Mike Wakita for the score that made the game 4-1.
The Black Bears responded only moments later with Nyquist's second goal of the game at 11:19 into the third period. Tanner House's (Cochrane, Alberta) shot off of a Ryan Hegarty (Arlington, Mass.) pass was saved by Milan, but the weakside rebound found its way to Nyquist his ninth goal of the season.
Maine goalie Scott Darling made 22 saves and improves to 8-3-1 on the season. Corey Milan made 11 saves for Union and falls to 8-7-1.
The Black Bears now have a 13-day break before returning to the ice to face Colgate on Dec. 27 in the Florida College Classic in Estero, Fla.