UMASS LOWELL SWEEPS WEEKEND SERIES WITH 6-0 WIN OVER MAINE
Kory Falite posts two goals for River Hawks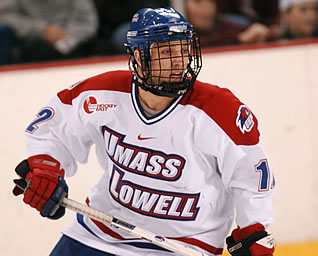 Kory Falite scored two goals for the River Hawks
LOWELL, Mass. - Carter Hutton (Thunder Bay, Ont.) made 21 saves and Kory Falite (Billerica, Mass.) scored two goals as UMass Lowell shutout Maine, 6-0, Saturday night in Hockey East action at the Tsongas Arena.
The River Hawks have won two straight and improve to 17-15-2 overall and 14-11-2 in league play. The Black Bears have lost five straight and fall to 12-20-4 overall and 7-17-3 against the league.
Hutton stopped all 21 shots he faced to record his sixth career shutout, third of the season. Hutton made 11 third period saves. He is 7-8-1 on the season.
Falite was one of four River Hawks with multiple points. He opened the scoring with a power play goal in the first period and capped the scoring with an even strength goal in the final minute of play.
Jeremy Dehner (Madison, Wis.) and Maury Edwards (Rocky Rapids, Alta.) each had a goal and an assist. Scott Campbell (Navan, Ont.) had two assists.
Mark Roebothan (St. John's, Nlfd.) and Michael Budd (Burlington, Ont.) also scored for UMass Lowell.
Edward's second period goal was his 10th of the season making him the first River Hawk defenseman to reach double digits in goals since Ron Hainsey netted 10 goals in 2000-01.
As a team the River Hawks scored two goals in the first period, one in the second and three more in the third for the 6-0 win. It was UML's second 6-0 win over Maine in the last two years - the other came December 29, 2007 in the championship game of the Florida College Classic.
The River Hawks were 2-for-3 on the power play on the night and 6-for-11 for the weekend series. Falite and Edwards scored the power play markers. UML needed just 46 seconds of its first two attempts to score the two power play goals.
Maine was 0-for-5 on the power play Saturday night.
The River Hawks out-shot the Black Bears, 22-21 on the night. Maine had a game-high 11 shots in the third period, but UMass Lowell netted three goals on nine shots in the third.
Maine goaltender Scott Darling (Lemont, Ill.) took the loss allowing six goals on 22 shots. He is 9-12-3 on the year.
UMass Lowell swept Maine in the season series. It is the first time the River Hawks have swept the Black Bears in a three-game Hockey East season series.
Each team returns to the ice this weekend for the Hockey East Quarterfinals. The fifth-seeded River Hawks travel to Vermont to take on the fourth-seeded Catamounts. The Black Bears, the eighth seed, will either play Northeastern or Boston University.