DIMMEN'S LATE GOAL LIFTS MAINE PAST UMASS, 2-1
Sophomore defenseman Jeff Dimmen wins game in final minute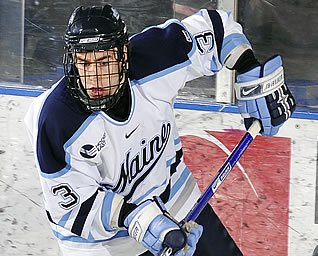 Jeff Dimmen scored the game-winner for Maine
ORONO, Maine -- Jeff Dimmen (Colorado Springs, Colo.) scored the game-winning goal with just 26 seconds remaining in regulation as the University of Maine men's ice hockey team defeated UMass 2-1 on Sunday afternoon at Alfond Arena in Orono, Maine. The Black Bears improve to 11-12-3 on the season and 6-9-2 in Hockey East play. UMass falls to 11-12-3 and 6-8-3 in conference play.
The Black Bears jumped on the board less than a minute after a Topher Bevis interference call gave Maine the man advantage with 19:25 left in the first. Chris Hahn (Fort Qu'Appelle, Saskatchewan) fed the puck to Matt Duffy (Windham, Maine) stationed at the blue line, who slide it to Will O'Neill (Salem, Mass.) on the opposite side. O'Neill tossed it back to Duffy for a one-timer that seared through traffic and into the net for his fifth goal of the season, just 44 seconds into the game.
The Minutemen evened the score with a power play goal at 18:32 of the second period after Maine was whistled for an interference penalty. Forward Casey Wellman entered the Black Bear zone and gave the puck to defenseman Matt Irwin who then sent it for a ride around the boards. Wellman picked the puck back up on the other side before dishing it to Justin Braun at the blue line. Braun executed a give and go to Wellman for a one-timer as he slashed towards the net, the shot cleared through Dave Wilson's (Caledon East, Ontario) five-hole and into the goal. The score was Wellman's eighth of the season and tied the game at 1-1.
The game remained tied at 1-1 and looked as if it was headed for overtime, before the Black Bears were able to get the game-winner. Robby Dee (Plymouth, Minn.) began the play when he had a shot on goal. Spencer Abbott (Hamilton, Ontario) picked up the rebound and got the puck to Chris Hahn on the boards. Hahn fed Dimmen in the slot who was able to beat UMass goalie Paul Dainton with a one-timer. For Dimmen, it was his fifth goal of the season and team-best third game-winning goal.
Dave Wilson, earning his second straight start for Maine, was outstanding. He made 21 saves and improves to 3-5-0 on the season. Paul Dainton made 27 saves in goal for UMass and falls to 8-7-1 on the season.
Maine outshot UMass 29-22 in the game. The Black Bears were 1-for-5 on the power play, while the Minutemen were 1-for-5 as well.
The Black Bears return to action on Friday, Feb. 6 when they travel to New Hampshire for a 7:30 p.m. game against the Wildcats.