Providence and Maine Skate to 2-2 Tie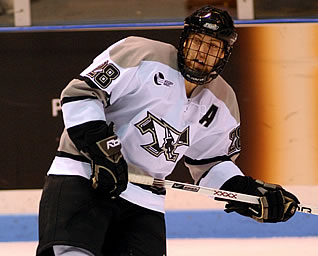 Nick Mazzolini scored the game-tying goal for Providence.
Orono, ME. - The University of Maine men's ice hockey team skated to a 2-2 tie with Providence on a very snowy Sunday afternoon at Alfond Arena in Orono, Maine. The Black Bears move to 10-9-3 on the season and 5-6-2 in Hockey East play. Providence moves to 6-12-2 on the campaign and 3-8-2 in conference play.
Despite Maine controlling play the majority of the first period, Providence struck first when Matt Germain tallied his third goal of the season at 18:18 of the first period on a shot from the left face-off circle. Ian O'Connor and Matt Bergland each assisted on the goal which gave Providence the 1-0 lead. The Friars took the 1-0 lead into the first intermission, despite being outshot 12-4 in the period.
Maine tied the game at 1:27 of the second period. Jeff Dimmen (Colorado Springs, Colo.) had a shot that was blocked, but Robby Dee (Plymouth, Minn.) was able to tip the puck the Spencer Abbott who beat Providence goalie Alex Beaudry for his third goal of the season.
Maine took the lead at 16:14 when Gustav Nyquist (Malmo, Sweden) found Chris Hahn (Fort Qu'Appelle, Saskatchewan) driving to the net. Hahn beat Bergland for his fifth goal of the season. Dimmen picked up his second assist of the game on the goal.
Providence tied the game when Nick Mazzolini notched an unassisted goal at 2:35 of the third period that went five hole on Maine goalie Scott Darling (Lemont, Ill.). It was the second goal of the season for Mazzolini.
Maine finished with a 42-23 advantage in shots in the game. The Black Bears were 2-for-7 on the power play, while Providence was scoreless in four chances.
Maine goalie Darling made 21 saves in goal. He moves to 8-6-3 on the season. Beaudry made 40 saves in goal for the Friars.
Maine returns to action on Saturday, Jan. 24 when they travel to Boston College. Puck drop is scheduled for 8 PM.