THIESSEN, NORTHEASTERN SHUT OUT MAINE, 5-0
Brad Thiessen makes 29 saves in shutout for Huskies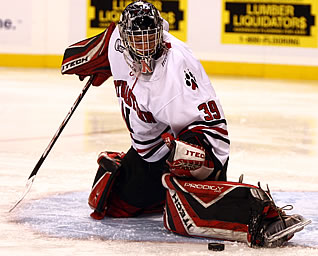 Brad Thiessen made 29 saves for the Huskies
ORONO, Maine - The University of Maine men's ice hockey team fell to Northeastern 5-0 on Friday night in the home-opener for the Black Bears. Maine falls to 1-2-0 on the season and 0-1-0 in Hockey East play, while Northeastern improves to 4-0-1 on the season and 3-0-0 in conference play.
The Huskies opened the scoring just 3:31 into the game. Wade MacLeod had the puck behind the Maine net and found Mike Hewkin on the blueline. Hewkin was able to shoot the puck past Maine goalie Dave Wilson (Caledon East, Ontario) for his first goal of the season. Joe Vitale also assisted on the play.
Northeastern took a 2-0 lead at 6:22 of the first. Greg Costa had an initial shot on goal that Wilson stopped, but the rebound went right to Chris Donovan who was to the right of Wilson. Donovan was able to beat Wilson for his second goal of the season. Dylan Wiwchar also assisted on the play. The Huskies went up 3-0 at 7:56 of the first period. Maine had a shot on goal that was saved by Northeastern goalie Brad Thiessen. The rebound went right to Steve Quailer who skated up the left side of the ice and passed the puck to Rob Rassey who was trailing the play. Rassey beat Wilson for his first goal of the season.
The Huskies added a second period goal by Alex Tuckerman at 11:02, who beat Wilson with a shot just outside the right face-off circle. Quailer and David Stratham both assisted on the goal by Tuckerman.
The Huskies capped the scoring at 7:51 of the third period. Joe Vitale found David Strathman between the circles. Strathman carried the puck into the right face-off circle and beat Wilson over his right shoulder.
Wilson made 21 saves for the Black Bears and falls to 0-2-0 on the season. Brad Thiessen stopped all 29 shots that he faced and improves to 4-0-1 on the campaign.
Northeastern was 0-5 on the power play, while Maine finished the game 0-6.
Tanner House (Cochrane, Alberta) led Maine with four shots on goal in the game.
The game featured the debut of the Maine Savings Black Bear Vision Scoreboard.
Maine and Northeastern finish their two-game series on Saturday, Oct. 25 at Alfond Arena. The puck is scheduled to drop at 7:30 p.m.