UMASS LOWELL EDGED BY MINNESOTA-DULUTH, 2-1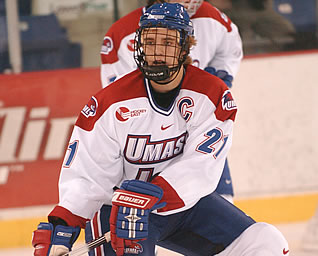 Ben Holmstrom scored a power-play goal for UML
HOFFMAN ESTATES, Ill. (Jan. 2, 2009) - Justin Fontaine (Bonnyville, Alta.) scored the game-winning goal midway through the second period as Minnesota Duluth defeated UMass Lowell, 2-1, Friday afternoon in the first game of the Shillelagh Tournament.
The Bulldogs are unbeaten in their eight games and improve to 9-4-6. The River Hawks have dropped four straight and fall to 8-9-0 with the loss.
Fontaine's game-winner came at 9:43 of the second period on a five-on-three power play. Fontaine slammed home a crossing pass on the right side of the net. The goal was his 10th of the season and assisted by MacGregor Sharp (Red Deer, Alta.) and Mike Connolly (Calgary, Alta.).
Ben Holmstrom (Colorado Springs, Colo.) opened the scoring with his third goal of the season at 10:59 of the first period on a power play when he collected a loose puck at the right side of the net. Paul Worthington (Langhorne, Pa.) and Kory Falite (Billerica, Mass.) assisted on the goal.
Andrew Carroll (Shoreville, Minn.) got Minnesota Duluth on the board with his second of the season at 18:10 of the first. Carroll beat Carter Hutton with a wrist shot in the high slot. Evan Oberg (Thunder Bay, Ont.) and Jack Connolly (Duluth, Minn.) picked up the assists.
Alex Stalock (South St. Paul, Minn.), starting his 55th straight game, picked up the win in goal for Minnesota Duluth. He made 27 saves.
Carter Hutton (Thunder Bay, Ont.), making his first start since November 7, took the loss between the pipes for UMass Lowell. Hutton stopped 23 of 25 shots faced.
The River Hawks out-shot the Bulldogs 28 to 25 for the game. It was just the fifth time in 19 games Minnesota Duluth has been out shot.
Each team scored a power play goal in the game. UML was 1-for-4. UMD was 1-for-3.
The Bulldogs have won four straight and are unbeaten in the last five meetings (4-0-1) against the River Hawks.
"I thought we played extremely well for the first 17 minutes of the first period, we totally controlled play," said UMass Lowell head coach Blaise MacDonald. "We made a foolish play to give up a goal. That took some momentum away from us. Having to kill off that five-on-three was difficult, and we almost did a great job. We still had some terrific opportunities and we battled all the way to the end. Its another one-goal loss where we certainly played well enough to win. We have to find a way to get that extra goal."
UMass Lowell and Minnesota Duluth both return to the ice Saturday in the second day of the Shillelagh Tournament. The Bulldogs will play in the championship game against the winner of the Notre Dame/Union game. The River Hawks will play the losing team.