NEW HAMPSHIRE SKATES TO 2-2 TIE AT FOURTH-RANKED MINNESOTA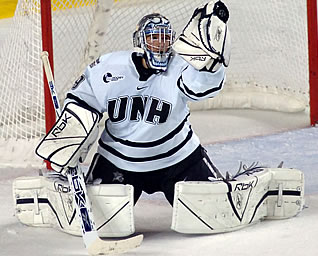 Brian Foster made 39 saves for the Wildcats.
MINNEAPOLIS, Minn. - Brian Foster (Pembroke, N.H.) stopped a season-high 39 shots including four in overtime to help the fifth-ranked University of New Hampshire men's ice hockey team skate to a 2-2 tie with No. 4 Minnesota on Friday night in front of a sellout crowd of 10,246 at Mariucci Arena. UNH moves to 4-1-3, while the Gophers are now 4-0-3.
OTHER LINKS: Phil DeSimone Audio (mp3) - Brian Foster Audio (mp3) - Dick Umile Audio (mp3)
Foster recorded double figure saves in each of the first three period, while Minnesota's Alex Kangas turned away 37 shots including 15 in the first stanza.
In an even-played first period, the Wildcats broke the scoreless deadlock at 16:47 as Phil DeSimone (East Amherst, N.Y.) scored an even-strength four, his third of the season, off the rebound of a James van Riemsdyk (Middletown, N.J.) shot that bounced out in front of the net. The Wildcats held a slim 15-14 shot advantage in the period.
The Gophers tied with an even-strength goal by Jordan Schroeder at 13:41. Schroeder sent the puck toward the net and it went in off the heels of a New Hampshire defender. The goal, his third of the season, was assisted by Ryan Stoa and David Fischer. UNH recaptured its lead just five minutes later at 18:25. Kevin Kapstad (Boxboro, Mass.) gathered the puck from behind the UNH net and passed to Jerry Pollastrone (Revere, Mass.) carried the puck out of the defensive zone and made a pass along the left boards to Peter LeBlanc (Hamilton, Ontario). LeBlanc brought the puck in and fired a one-timer from the left point that went passed Kangas in the top left corner of the net for his team-best four goal of the season. Minnesota held a 12-7 advantage in shots during the period.
Minnesota tied it up with a power play goal at 8:01 as Jay Barriball scored with assists from Cade Fairchild and Stoa.
The Golden Gophers were 1-4 on power play opportunities, while UNH was 0-2 in its extra-skater opportunities.
UNH concludes its two-game series with Minnesota on Saturday night (7 p.m. EST) at Mariucci Arena in Minneapolis, Minn. The game will be televised live by Fox SportsNet North and on the Wildcat Sports Network (Flagship AM-1270). The Wildcats' next home game is Nov. 22 (7 p.m.) against Providence.