VERMONT CATAMOUNTS EDGE MIAMI REDHAWKS, 4-3
Peter Lenes posts goal and assist for Catamounts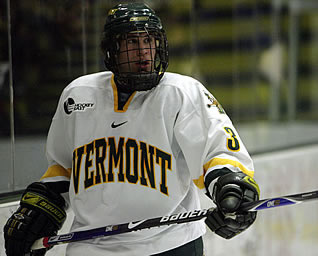 Peter Lenes had a goal and an assist for Vermont
BURLINGTON, Vt. - Sophomore Justin Milo (Edina, Minn.) continued his strong start to the season by scoring the game-winning goal with 4:20 remaining and junior Mike Spillane (Bow, N.H.) made 20 saves to lead No. 17 Vermont to a 4-3 victory against No. 7 Miami in front of a sellout crowd of 4,003 at Gutterson Fieldhouse on Friday night. The Catamounts improved to 2-0-0 with the win while the Redhawks dropped to 1-1-1 with the loss.
Milo, who also is a member of the UVM baseball team, has three goals in the first two games of the season. He also scored a goal in the preseason opener against McGill.
Senior assistant captain Peter Lenes (Shelburne, Vt.) added a goal and an assist for the Catamounts. Juniors Viktor Stalberg (Gothenburg, Sweden) and Brayden Irwin (Toronto, Ontario) also scored goals.
"That's a great Miami team," Sneddon said. "So, it's a great win for our program and a great win for Hockey East. They have five guys that read off of each other extremely well. So, when you are trying to prepare for them, they are especially tough because they can throw five different looks at you."
Vermont led 3-2 going after two periods but sophomore Pat Cannone tied the game for Miami at 2:32 of the third. Cannone sent a wrist shot from the bottom of the slot past Spillane to make it 3-3.
Milo answered for the Catamounts with the go ahead goal at 15:40 of the final period. Sophomore Jack Downing (New Canaan, Conn.) and Lenes both assisted on the goal that proved to be the game winner.
"Peter (Lenes) made a nice move, and got the defense scrambling," Milo said. "The puck bounced off of somebody and landed right on my stick on my backhand, and I was able to slide it under the goalie."
Sophomores Carter Camper and Tommy Wingels both had first period power-play goals to give Miami a 2-1 lead after 20 minutes.
Stalberg struck just 18 seconds into the contest to make it 1-0 Vermont. Senior captain Dean Strong (Mississauga, Ontario) and senior assistant captain Corey Carlson (Two Harbors, Minn.) both assisted.
With the Catamounts trailing 2-1, Lenes snapped a wrist shot from the top of the left circle past Miami freshman goalie Cody Reichard (24 saves) at 13:09 of the second period to tie the game. Downing and sophomore Kyle Medvec (Burnsville, Minn.) both assisted on the 32nd goal of Lenes' career.
Vermont took a 3-2 advantage less than two minutes later on the second goal of the season for Irwin. He knocked in a rebound off a scramble in front at 15:40. Junior Colin Vock (Detroit, Mich.) and sophomore Dan Lawson (Oak Forest, Ill.) each assisted.
The Catamounts outshot the Redhawks 28-23 for the game and 21-13 in the final two periods. Vermont was 0-for-3 on the power play while Miami went 2-for-6.
"We knew it was going to be a dogfight the entire night," Lenes said. "Miami is an excellent team. They're fast, and they are similar to us. They have a deadly power play, and we have to do better job of staying out of the box. It takes a full sixty minutes and I think we came pretty close to doing that tonight."
Vermont meets Miami again on Saturday at 7:05 p.m. at Gutterson Fieldhouse. Approximately 100 tickets still remain for Saturday's game. Tickets are currently available online at www.UVMathletics.com.
NOTES: Former Catamount Jerry Gernander '01 made his debut on the WVMT-AM 620 broadcast ... Vermont leads the all-time series against Miami 7-2-0 ... The Catamounts are 64-3-10 in the last 77 games when leading after two periods in the Kevin Sneddon era ... UVM is unbeaten in 40 straight games when scoring at least four goals ... Peter Lenes has 15 multi-point games in his career ... Dean Strong went 18-for-28 on face offs ... The Redhawks entered the game with more wins (84) than any team in Division I college hockey since the 2005-06 season ... Freshman Rob Madore will get the start in goal for the Catamounts on Saturday.