Sunday, November 16, 2008
CATAMOUNTS EDGE PAST WARRIORS, 2-1
Mike Spillane makes 24 saves in Vermont net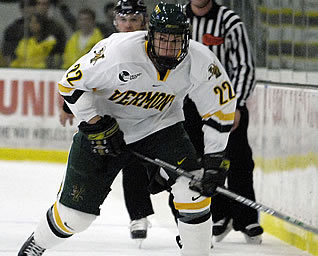 Josh Burrows picked up a goal for the Catamounts
BURLINGTON, Vt. - Junior Mike Spillane (Bow, N.H.) made 24 saves while sophomore Josh Burrows (Prairie Grove, Ill.) and junior Brian Roloff (West Seneca, N.Y.) each scored goals to lift No. 15 Vermont to a 2-1 victory over Merrimack in front of a crowd of 3,813 at Gutterson Fieldhouse on Sunday afternoon. The Catamounts improved to 5-3-2 (2-3-1 HEA) with the win and the Warriors dropped to 3-5-2 (1-4-1 HEA) with the loss.
"It was a tough game to play; Merrimack is a very disciplined team," Vermont head coach Kevin Sneddon said. "I thought they did a good job of negating our speed at times through the neutral zone; and we knew they would coming in."
"We knew that we were going to have to play a smart game, and I thought for the most part that we did that. We limited their chances, and we had some good things going in the offensive zone even though they didn't always result in a goal. It wasn't a great game, but we found a way to win, which is a positive."
With the victory Vermont moved to 7-1-2 against Merrimack since joining Hockey East. Six of the 10 meetings have been decided by one goal or ended in a tie and Sunday's game was another tightly contested contest between the two schools.
The Catamounts took a 1-0 lead at 14:51 of the first period on the first goal of the season for Burrows. Senior captain Dean Strong (Mississauga, Ont.) fired a wrist shot from the high slot that Burrows deflected at the left post for his third career goal. Senior assistant captain Corey Carlson (Two Harbors, Minn.) also assisted.
Roloff gave Vermont a two-goal lead with a power-play goal 6:33 into the second period. Sophomore Justin Milo (Edina, Minn.) sent a cross-ice pass from the left circle to Roloff at the right post for his fourth goal of the season. Senior assistant captain Peter Lenes (Shelburne, Vt.) also earned his team-high 10th assist of the season on the play.
"Milo and Lenes, have done a really good job on the power play of moving it around and sucking their forwards up top," Roloff said. "Then we can slide it down and attack the net."
Merrimack, who tied No. 5 Boston College 5-5 on Friday, cut the deficit in half at 15:01 of the second. Junior co-captain Joe Loprieno scored at the right circle to make it 2-1.
The Warriors had a pair of power-play chances in the final period but were unable to find the equalizer as the Catamounts went 3-for-3 on the penalty kill in the game. Vermont finished 1-for-4 on the power play.
Junior Andrew Braithwaite made 20 saves in the loss for Merrimack. Spillane improved to 3-2-1 with a 2.81 goals against average on the season with the victory.
"Anytime you beat a Hockey East team it's big," Spillane said. "The parity you can tell is tremendous. Every night is a dogfight and you've got to show up and bring your best effort, or else you're going to end up on the losing end. Thankfully, we were able to grind it out against a good Merrimack team."
No. 15 Vermont returns to the ice on Friday (Nov. 21) at No. 1 Boston University at 7 p.m. at Agganis Arena.
NOTES: Peter Lenes has recorded at least one point in nine of 10 games this season ... He has a team leading 13 points on the year ... Lenes had a team-high four shots ... The Catamounts have six power-play goals in the last four games and are 6-for-23 on the man advantage in that stretch ... Brian Roloff went 13-for-21 on face offs ... Vermont leads the all-time series against Merrimack 10-4-3 ... Log on to www.UVMathletics.com for video coverage including Kevin Sneddon, Mike Spillane and Brian Roloff's post-game press conferences.