Tuesday, November 25, 2008
UMASS LOWELL DEFEATS MERRIMACK, 3-1
Ben Holmstrom picks up two assists for River Hawks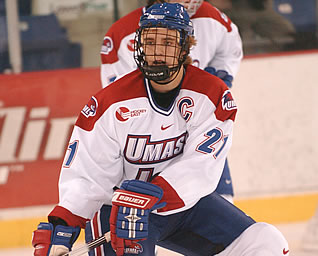 Ben Holmstrom registered two assists for the River Hawks
NORTH ANDOVER, MA - The UMass Lowell River Hawks used third-period goals from Paul Worthington and Kory Falite to upend Merrimack 3-1 Tuesday night at Lawler Arena.
OTHER LINKS: Blaise MacDonald Audio (mp3) - Nevin Hamilton Audio (mp3)
The Warriors entered the third period down 1-0 but evened the score as captain Rob Ricci (Brampton, Ontario) scored on a two-man advantage at 1:03 of the final frame. Ricci took feeds from Fraser Allan (North Battleford, Sask.) and Karl Stollery (Camrose, Alberta) and beat Nevin Hamilton who was out of position on the centerís third of the season.
Lowell responded at 6:18 as Worthington knocked in a loose puck past Andrew Braithwaite (Kingston, Ontario) for what proved to be the game-winner. Kory Falite added his ninth of the season at 14:54 executing a two-on-one with Ben Holmstrom on the power play for the insurance marker.
Holmstrom finished with two assists, while Hamilton stopped 24 shots in the win.
Braithwaite made 27 saves in net for the Warriors, who managed just five shots in the third period.
Merrimack (3-7-3, 1-6-2 HEA) is back in action on Saturday when they visit #15 New Hampshire at 7 p.m. at the Whittemore Center.