MERRIMACK TOPS MASSACHUSETTS IN OVERTIME, 3-2
Karl Stollery scores power-play goal in overtime for Warriors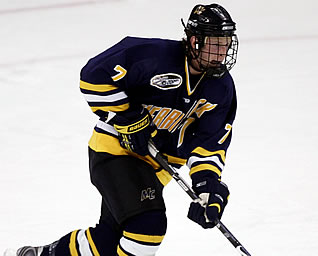 Karl Stollery had the game-winner for Merrimack
NORTH ANDOVER, MA - Karl Stollery netted the game-winner with 24 seconds left in overtime to give Merrimack the thrilling 3-2 come-from-behind victory over Massachusetts on Senior Night at Lawler Arena.
The win puts the Warriors (9-20-4, 5-18-3 HEA) into ninth place in Hockey East, while the Minutemen (14-18-3, 9-14-3 HEA) remain locked in seventh despite the loss. The Warriors and Minutemen will close out the regular season Saturday night at 7 p.m. at the Mullins Center with Merrimack looking for the season sweep. Merrimack, who is tied with Providence for ninth, owns the tie-breaker over the Friars.
The game was tied 1-1 entering the third, but T.J. Syner gave the Minutemen the 2-1 lead at 9:25 of the third as he found a loose puck in front of Joe Cannata and buried it for his seventh of the year.
But Merrimack stormed back as Jesse Todd evened the score with 4:17 remaining with his seventh of the year. Chris Barton set up Todd perfectly with a pretty cross ice pass, and Todd one-timed it past Paul Dainton, who was way out of position for the tying marker.
With James Marcou in the penalty box for tripping, the Warriors had the final 34 seconds to tally a power-play, game-winning tally. But the hosts needed just ten seconds, as Stollery one-timed a rocket of a shot over the blocker of Dainton, with Joe Cucci and Todd getting the assists. It was Stollery's fifth of the year, and 14th Hockey East point, tops among freshmen defensemen, and marked the first overtime win for Merrimack since March 4, 2006.
While on a five-on-three advantage, the Minutemen broke the scoreless tie as Marcou blasted a shot past Cannata with seven seconds remaining in the first period.
The Warriors responded in the second as Rob Ricci (Brampton, Ontario) teamed with Elliott Sheen for a short-handed goal at 12:49 of the second. Sheen found Ricci streaking down the left side, and his wrist shot beat Dainton glove side for his team-leading 11th of the season.
On what could be his final home game as a Warrior, Ricci tallied a goal and an assist giving him 23 points in 30 games this season and 83 points in his 98-game career. Todd posted another multi-point game and has 22 points in what has turned out to be a stellar freshman campaign.
Cannata was solid again, stopping 30 shots, including 11 in the second. Dainton made 28 saves for UMass, who outshot the Warriors 32-31.