Saturday, January 31, 2009
PROVIDENCE COLLEGE TOPS MERRIMACK, 5-3
Nick Mazzolini posts two goals and assist for Friars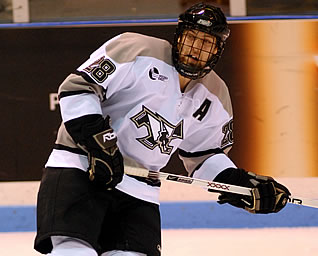 Nick Mazzolini had two goals and an assist for the Friars
PROVIDENCE, R.I. - The Providence College men's hockey team jumped out to 4-0 lead and held on for a 5-3 win over Merrimack Saturday night in a Hockey East game played at Schneider Arena. With the win, the Friars improved to 7-14-3 overall and 4-10-3 in league play. The Warriors fell to 5-16-3 and 2-14-2 in Hockey East action.
The Friars moved ahead to a 2-0 first period lead. Junior Mark Fayne (Sagamore Beach, Mass.) scored on a slap shot from the point as seniors Pierce Norton (South Boston, Mass.) and Nick Mazzolini (Anchorage, Alaska) assisted on the goal. Junior co-captain John Cavanagh (Warwick, R.I.) extended PC's lead to 2-0 at 9:48 as he scored his team leading eighth goal of the season. Just as the power-play expired, sophomore Matt Germain (Rockland, Mass.) slid a pass to Cavanagh, who rifled a one timer past Merrimack goalie Andrew Braithwaite.
The Friars increased their lead to 4-0 in the second period. John Cavanagh scored his second of the night and ninth of the season on a two-on-one rush with freshman Rob Maloney (Eagan, Minn.) at 4:13. Senior Nick Mazzolini (Anchorage, Alaska) then potted PC's third power-play goal of the night at 14:16. It also marked Mazzolini's fourth goal of the season. However, the Warriors scored three goals in the last 5:44 of the period to cut the lead to 4-3. Francois Ouimet scored on a two-on-one rush at 15:17 to make the score 4-1. Rob Ricci then scored his sixth goal of the season at 17:27, while Jesse Todd scored on the power play with four seconds left in the period to bring the Warriors to within one goal.
Mazzolini then sealed the win as he scored his second of the night at the 17:28 mark of the third period. Mazzolini stole the puck from a Merrimack defenseman and then skated in on a breakaway before tucking the puck past Braithwaite.
The Friars are back in action next weekend when they play a two-game weekend series at Vermont beginning on Friday, February 6.