Saturday, February 21, 2009
MERRIMACK AND PROVIDENCE SKATE TO 1-1 DRAW
Joe Cannata makes 32 saves for Warriors; Alex Beaudry stops 29 for Friars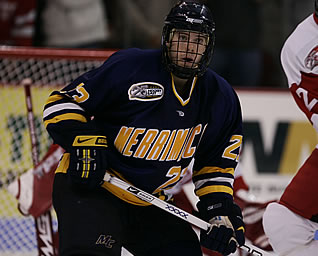 Chris Barton scored a goal for Merrimack
NORTH ANDOVER, MA - Chris Barton scored for Merrimack, while Joe Cannata stopped 32 shots in a 1-1 tie against Providence College Saturday night at Lawler Arena.
With the tie, the Warriors are 7-18-4 overall, 3-16-3 in Hockey East. Providence moves to 7-17-5 overall, 4-13-5 in conference. These two teams will take the ice again Sunday at 4 p.m. at Schneider Arena in a game televised by ESPNU.
Barton took a feed from Grant Farrell and broke past both defensemen, beating goaltender Alex Beaudry with a shot that just snuck in for his ninth of the season at 11:13 of the first. Joe Cucci also earned an assist on Barton's goal.
Just 1:29 later, the Friars evened the score as Matt Bergland gathered a loose puck to the left of Cannata and tucked it in for his eighth of the year, assisted by Ian O'Connor and Nick Mazzolini.
That was it for the scoring in this game despite the teams combining for 63 shots.
Jeff Velleca was awarded a penalty shot with 3:57 remaining in the first after he was hooked to the ice by David Cavanagh while on a breakaway, but the freshman was stopped by Beaudry, who stuck out his left pad for the big stop.
Merrimack killed off a two-man advantage for 1:07 late in the second period due in part to the penalty killing of John Jamieson as Cannata had to make just two saves on the advantage. Those were the only penalties Merrimack took all evening as the two teams combined for just three minor penalties.
The Warriors outshot Providence 4-2 in overtime, with Barton getting his team's best chance just 90 seconds into the extra frame. His shot from left circle trickled through the pads of Beaudry but went just wide of the net. Austin Mayer had a point-blank scoring chance with 30 seconds remaining in overtime, but Cannata just got a piece of it with his blocker and sent it wide.
Beaudry finished with 29 saves, including six off the stick of Rob Ricci.