VERMONT POSTS 3-2 EXHIBITION WIN OVER MCGILL
Viktor Stalberg nets game-winner for Catamounts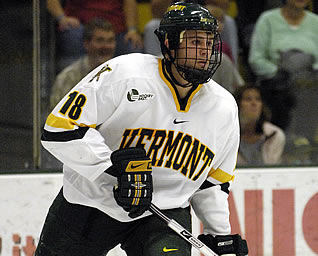 Viktor Stalberg picked up the game-winning goal
BURLINGTON, Vt. - Vermont junior Viktor Stalberg (Gothenburg, Sweden) scored the game-winning goal with 4:11 remaining and junior Mike Spillane (Bow, N.H.) stopped 17 shots to lead the Catamounts to a 3-2 victory against McGill in front of a crowd of 3,818 at Gutterson Fieldhouse on Sunday afternoon.
Sophomores Justin Milo (Edina, Minn.) and Josh Burrows (Prairie View, Ill.) scored first period goals for the Catamounts in their preseason opener.
Guillaume Doucet scored a power-play goal and Leonard Verrilli notched a short-handed tally for the Redmen.
"McGill is a very good hockey team; they really challenged us tonight and deserve a lot of credit," Vermont head coach Kevin Sneddon said. "They are going to be a great team in their respective league. We gained something out of this tonight, which is not always the case with preseason games. This was certainly a great test for our team."
Doucet gave McGill a 1-0 lead at 3:06 of the first with a power-play goal inside the slot.
The Catamounts responded with back-to-back goals to take a 2-1 lead after one period. Milo struck first at 13:08 on a rebound from the low slot off a shot by sophomore Jack Downing (New Canaan, Conn.).
Then Burrows scored from the left point on a wrister that was redirected by a McGill defenseman. Stalberg and senior captain Dean Strong (Mississauga, Ontario) both picked up assists.
The Catamounts outshot the Redmen 9-1 in the second period, but Verrilli's short-handed goal at 16:41 tied the game 2-2. Verrilli skated in on a 2-on-1 with Max Langelier-Parent and found the back of the net from the right post.
Vermont outshot McGill 20-5 over the course of the final 40 minutes but didn't get the go ahead goal until Stalberg scored at 15:49 of the third. Junior Patrick Cullity (Tewsbury, Mass.) found Stalberg at the left post on a cross-ice pass from the right circle to give Vermont a 3-2 advantage. Senior assistant captain Corey Carlson (Two Harbors, Minn.) also assisted.
"Kind of a lucky play," Stalberg said. "It was a great play by Cullity. The puck bounced our way as we came over the blue line and he saw me backdoor. We hear a lot about his great passing skills and it was great to see it on that play."
"I love our speed," Sneddon added. "We are a lot faster than we were last year, a lot stronger. Viktor Stalberg looked like a different player out there tonight because he is a lot stronger. A lot of players paid the price and worked this summer with the strength coach. Those things are going to pay off. It's exciting for our coaching staff to be able to work with our speed."
Danny Mireault finished with 28 saves for McGill. The Catamounts went 0-for-10 on the power play while the Redmen were 1-for-10.
Vermont returns to action next Saturday against RPI at 4pm at the Pavillon de la Jeunesse in Quebec City. The game is set to be the first-ever NCAA Division I hockey game in Quebec as part of the city's 400th anniversary and proceeds from the contest will benefit cystic fibrosis.
NOTES: Former Catamount Aaron Miller '93, who spent 12 seasons as a defenseman in the NHL, made his debut as a color analyst on the WVMT radio broadcast ... Vermont out shot McGill 31-19 ... Lance Herrington, Matt Marshall, Justin Milo and Drew MacKenzie all made their debuts for the Catamounts ... McGill defeated Merrimack last night 2-1.