Saturday, October 4, 2008
MERRIMACK DEFEATED BY MCGILL, 2-1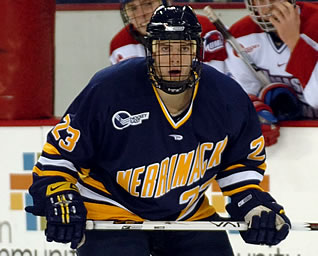 Chris Barton scored a power-play goal
NORTH ANDOVER, MA - The Merrimack College hockey team was edged by McGill University 2-1 in a preseason game Saturday night at Lawler Arena.
Trailing 2-0 in the second, Chris Barton scored Merrimack's lone goal at 11:14, as he roofed a wrist shot on the power play. J.C. Robitaille and Justin Bonitatibus picked up assists.
The Warriors outshot McGill 12-7 in the third and dominated possession for nearly the entire two minutes on two separate power plays but could not get the tying goal past goaltender Hubert Morin. Grant Farrell fired three shots from the point in the third while nine other Warriors each had one. In all, only three players did not register a shot.
Andrew Braithwaite and Joe Cannata split the game in goal, with Braithwaite allowing two goals on six shots and Cannata stopping all nine shots he faced.
Morin stopped 32 shots for the Redmen, who are 2-3 on the season.
Merrimack hosts Robert Morris on Saturday in the team's regular season opener at 7 p.m.