Saturday, October 25, 2008
PROVIDENCE HOLDS OFF HOLY CROSS, 6-4
John Cavanagh and Ian O'Connor each post goal and assist for Friars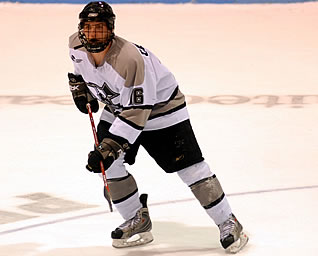 John Cavanagh had a goal and an assist for PC
WORCESTER, Mass. - The Providence College men's hockey team used six different goal scorers en route to a 6-4 win over Holy Cross Saturday night in non-conference game played at the Hart Center. With the win, the Friars improved to 2-2 on the season, while Holy Cross fell to 1-1-1.
The Friars took a 1-0 lead at the 5:46 mark of the first period when junior co-captain John Cavanagh (Warwick, R.I.) benefitted from a loose puck right in front to record his second goal of the season. Freshman Matt Bergland (Faribault, Minn.) and sophomore Ian O'Connor (Londonderry, N.H.) assisted on the goal. However, just 1:14 later, the Crusaders evened the score (1-1) as Brodie Sheehan connected on his first goal of the season at the 7:00 mark. The Friars regained the lead with seven seconds left in the first period, taking advantage of their second power-play chance of the night. Senior Nick Mazzolini (Anchorage, Alaska) won a faceoff at the left circle and played it back to classmate Matt Taormina (Washington Township, Mich.) who then slid a pass to freshman Daniel New (White Plains, N.Y.). New then ripped a slap shot that eluded Holy Cross goalie Adam Roy. It marked New's first collegiate goal.
In the second period, the Friars increased their lead to 3-1 when sophomore Austin Mayer (Providence, R.I.) also tallied his first collegiate goal. While short handed, Mayer stole the puck just outside the Crusader blue line and skated in on a breakaway before tucking the puck past Roy at 9:24. While on the same power play, the Crusaders then cut the lead to 3-2 at 10:23 as Ryan Driscoll scored after a scrum in front. At 14:27, the Friars regained their two-goal lead (4-2) thanks to sophomore Paul Golden's (Milton, Mass.) first career goal. Golden, who was playing in his first career game with PC, gained possession of the puck at the HC blue line, skated in and then unleashed a low slap shot from that right circle that found the back of the net.
In the third period, sophomore Kyle MacKinnon (Walnut, Calif.) scored on a high wrist shot from the left circle at 3:34 to give the Friars a 5-2 edge. However, the Crusaders climbed back into the game with two power-play goals, 2:38 apart to make the score, 5-4. Driscoll scored his second of the night at 4:56, while Everett Sheen tallied his first at 7:18. O'Connor capped off the win for the Friars with his first goal of the season with 1:01 left.
Freshman Justin Gates (Cranston, R.I.) made 17 saves to earn his first career win. Roy stopped 24 shots.