MILO LIFTS VERMONT PAST DARTMOUTH IN OVERTIME, 3-2
Sophomore forward Justin Milo scores fourth goal of season in overtime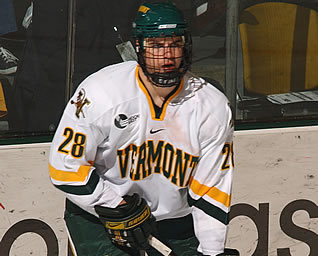 Dan Lawson assisted on the game-winner for Vermont
HANOVER, N.H. - Sophomore Justin Milo (Edina, Minn.) scored the game-winning goal 2:12 into overtime to lift No. 14 Vermont to a 3-2 victory against Dartmouth in front of a crowd of 3,402 at Thompson Arena on Sunday night. Freshman goalie Rob Madore (Venetia, Pa.) made 31 saves in his second career start as the Catamounts improved to 3-2-1 (0-2-0 HEA) with the victory. The Big Green dropped to 0-2-0 with the loss.
Freshman Matt Marshall (Hingham, Mass.) and senior assistant captain Corey Carlson (Two Harbors, Minn.) also scored goals for Vermont.
Sophomores Adam Estoclet and Joe Stejskal notched goals for Dartmouth.
"I was pleased with the way we played in overtime," Vermont head coach Kevin Sneddon said. "I thought we worked extremely hard together to find a way to win. That's the positive we take out of this weekend because it was a roller coaster ride."
Marshall put the Catamounts in front 1-0 just 8:07 into the game with the first goal of his career. Sophomore Chris Atkinson (Sparta, N.J.) fed Marshall in the low slot and he beat Dartmouth senior goalie Dan Goulding with a backhander. Sophomore Kevan Miller (Los Angeles, Calif.) also assisted.
Vermont took a 2-0 lead just over two minutes later on Carlson's 25th career goal. Junior Colin Vock (Detroit, Mich.) sent a pass from the left circle to a wide open Carlson at the bottom of the slot. Senior captain Dean Strong (Mississauga, Ont.) picked up his fifth assist of the season on the play.
Dartmouth's penalty kill stopped a Vermont 5-on-3 for 1:51 late in the first period. Then Estoclet scored with just 20 seconds left in the first to cut the deficit in half as the Big Green gained momentum.
Following a scoreless second period, Dartmouth tied the game 2-2 on a power-play goal with 2:28 left in the game. Stejskal scored on a wrap around to send the game to overtime.
Milo was the hero once again for the Catamounts as he notched the game winner on a rebound in the extra session. It was his team-high fourth goal of the season. Milo has two game-winning goals on the year, to go along with a shootout winner against Miami on Oct. 18 and a two-goal game against Rensselaer in Quebec City.
Vermont improved to 44-22-5 in the all-time series against Dartmouth with the win. Dan Goulding finished with 25 saves in the loss for the Big Green while Rob Madore picked up his first career win for the Catamounts.
"I thought his rebound control was excellent," Sneddon said of Madore. "I thought Dartmouth played very well in the offensive zone. They had some good cycling and their power play got some shots on us. I thought Rob really kept us calm in net. He ended a lot of plays that could have been second or third opportunities."
Vermont returns to Hockey East action next Friday (Nov. 7) when they visit Providence at 7 p.m.
NOTES: Senior assistant captain Peter Lenes assisted on Milo's game winner and has a six-game scoring streak to begin the season ... Lenes has a team leading nine points (3g, 6a) ... Vermont is 12-4 in its last 16 one-goal games dating back to the start of last season ... The Catamounts are 65-3-10 in their last 78 games when leading after two periods in the Kevin Sneddon era ... UVM is 6-6-0 against Dartmouth under Sneddon.