FOUR POWER-PLAY GOALS HELP VERMONT PAST COLGATE, 6-4
Catamounts to face St. Lawrence in finals of Catamount Cup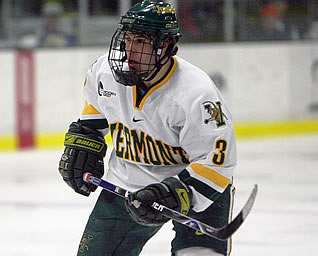 Peter Lenes had two goals and an assist for Vermont
BURLINGTON, Vt. - Senior assistant captain Peter Lenes (Shelburne, Vt.) and sophomore Justin Milo (Edina, Minn.) each scored two goals to lead No. 13 Vermont to a 6-4 victory over Colgate in the opening round of the Sheraton/TD Banknorth Catamount Cup in front of a sellout crowd at Gutterson Fieldhouse on Friday night. The Catamounts improved to 10-4-2 (6-3-1 HEA) with the win and will play St. Lawrence in the Catamount Cup championship game on Saturday at 7 p.m. The Saints defeated Ferris State 5-4 in Game 1 of the Catamount Cup.
Junior Brian Roloff (West Seneca, N.Y.) and sophomore Wahsontiio Stacey (Kahnawake, Quebec) each added power-play goals for the Catamounts, who went 4-for-8 on the man advantage. Vermont now ranks fourth in the country on the power play this season after finishing 51st out of 59 Division I teams in 2007-08.
"All the credit on our power play success goes to the guys in our practice who do our mock penalty kill," Vermont head coach Kevin Sneddon said. "We had guys like (Chris) Atkinson and Brett Leonard, and we just told them to go as aggressively as you possibly can. All week we practiced that because we knew Colgate was going to come aggressive at us. Our key players like (Viktor) Stålberg, Lenes and Milo were used to having guys in their face all week in practice and they had to make quick plays. I think we let the puck do the work for us."
The four power-play goals were a season high for the Catamounts, who also went 4-for-5 on the penalty kill. With 20 power-play goals this season, Vermont has already matched last year's total through 16 games.
Junior David McIntyre scored a pair of goals for Colgate (5-8-4), who dropped to 0-5-3 against ranked team this season. Freshman Austin Smith added a short-handed goal and had two assists.
The Catamounts entered the game off a 19-day layoff but jumped out to a 3-0 lead in the first period. Milo started the scoring with a power-play goal at 10:08. Then Lenes found the net at 14:13 before Roloff scored on the power play at 15:55.
Vermont out shot Colgate 12-3 in the first 20 minutes. Raiders goalie Charles Long (9 saves) was replaced by freshman Alex Evin to begin the second period.
Lenes made it 4-0 Vermont at 9:10 of the second. Junior Colin Vock (Detroit, Mich) earned his second assist of the game when he setup Lenes all alone at the bottom of the right circle. Lenes deeked Evin and beat him high with a backhander for his seventh goal.
"I think people did what they needed to over break and we played a solid 40 minutes of hockey," Lenes said. "We battled hard in practice the whole week. We got back on Sunday, and tried to get our lungs and legs back."
Milo made it 5-1 Vermont with a power-play goal at 11:04 of the second after Smith scored shorthanded for Colgate. Milo's blast from the left point deflected off a Raiders defenseman and found the net for his team-high eighth goal of the season. Lenes earned his team leading 13th assist and 20th point on the play.
"The guys were very excited to get going," Milo said. "It was a long break, and we wanted to start off the second half of the season on a good note, and I think we did a good job of that."
Vermont took a 6-1 lead just 1:34 into the final period with a power-play goal by Stacey on a one-timer from the left circle. Senior assistant captain Corey Carlson (Two Harbors, Minn.) and freshman Drew MacKenzie (New Cannan, Conn.) setup the goal.
Colgate mounted a rally with three straight goals in a span of 2 minutes and 39 seconds in the final period to make it a 6-4 game. McIntyre scored back-to-back goals at 4:16 and 4:58 of the third. Then junior Jason Williams notched a power-play goal at 6:55 to cut the deficit to 2.
The Raiders would get no closer as the Catamounts advanced to their fourth straight Catamount Cup championship game. Colgate will meet Ferris State in Saturday's consolation game 4 p.m.
Junior Mike Spillane (Bow, N.H.) made 14 saves in his first start since Nov. 29 for the Catamounts. Vermont out shot Colgate 30-18.
Saturday's Sheraton/TD Banknorth Catamount Cup championship game at 7 p.m. will be the second meeting of the season for Vermont and St. Lawrence. The Saints defeated the Catamounts 4-3 at Appleton Arena on Dec. 13.
"I just love playing against Joe's (Marsh) team," Sneddon said. "It's going to be a great game again. Every time we line up with the Saints it's a great hockey game because they just play the game the way it's supposed to be played. They have great speed up front, so it's going to be speed versus speed. I think their defensemen are very, very strong and skilled. We are going to have our hands full tomorrow night, but I'm sure our players are excited to have another chance to play them."
Tickets still remain for Saturday's Catamount Cup games and can be purchased online at www.uvmathletics.com or at the Gutterson Fieldhouse ticket office one hour prior to the start of Saturday's consolation game at 4 p.m.
Saturday is the sixth annual Teddy Bear Toss sponsored by Vermont Teddy Bear Company. Fans are encouraged to bring a Teddy Bear to donate during the toss. Members of the Vermont men's hockey team will deliver the bears to local nursing homes and the Vermont Children's Hospital in January.
NOTES: Justin Milo was the Nike Bauer Player of the Game ... Milo had a team-high six shots ... Colgate's 18 shots were a season low allowed by Vermont ... Brian Roloff's three points marked a new career high ... The Catamounts are 14-11-4 all-time at home against the Raiders ... Vermont's six goals were a season best and the Catamounts are now unbeaten in 43 straight games when scoring at least four goals ... With an assist Dean Strong is now four points shy of reaching 100 for his career ... Saturday's Catamount Cup championship game will be televised on CN8.