Saturday, October 11, 2008
UMASS LOWELL EDGED BY COLGATE, 2-1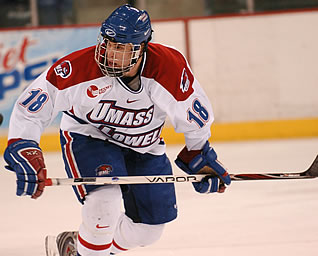 Patrick Cey scored the River Hawk goal
HAMILTON, N.Y. (Oct. 11, 2008) - Patrick Cey (Saskatoon, Sask.) scored his first goal of the season, but Colgate defeated UMass Lowell, 2-1, in college hockey action at the Starr Rink Saturday night.
The Raiders are 1-0 on the season with the win. the River Hawks are 0-1 with the loss. The game was the season opener for both squads.
Wade Poplawski (Winnipeg, Man.) and David McIntyre (Pefferlaw, Ont.) scored for Colgate, while Cey netted the lone goal for UML.
Poplawski opened the scoring in the contest when his shot from the center blue line deflected off a River Hawk and past Carter Hutton (Thunder Bay, Ont.). The goal came at 9:18 of the second period and on Colgate's only power play of the night. Brian Day (Danvers, Mass.) and Jason Fredricks (Eagle River, Wis.) had the assists.
The River Hawks responded at the 14:47 mark of the second on when Cey chipped a rebound past Colgate netminder Charles Long (Cleveland Heights, Ohio). Ryan Blair (Ashburn, Va.), who took the initial shot, and freshman David Vallorani (Hamilton, Ont.) picked up the assists. The assist for Vallorani was the first of his career.
McIntyre scored the game-winning goal with just 13 seconds left in the second period on a rebound shot from the slot. Austin Smith (Dallas, Texas) took the shot that led to the rebound and picked up an assist on the goal.
Long picked up his first career win stopping 23 UML shots, including 10 in the second period. Hutton made 14 saves for the River Hawks but took the loss.
UML out-shot Colgate in each of the first two periods, including 11-6 in the second period and 24-16 for the game.
The River Hawks had a 57-second two-man advantage in the third period, but did not score on the sequence and finished 0-for-3 for the game. The Raiders were 1-for-1 on the man-advantage on the night.
"I thought we played with a pretty good pace," said UMass Lowell head coach Blaise MacDonald. "We played hard and physical. You have to give Colgate a lot of credit; they played a really charged up game. Their goalie played out of his mind. To me he was the difference. Our power play struggled; we were just out of rhythm. It takes one or two bobbles to disjoint the power play and we certainly had that tonight."
The River Hawks return to the ice Thursday night for the first of two games at Michigan State. Game times for both Thursday's and Friday's contests are scheduled for 7:00 p.m. Colgate is next in action Friday night when it hosts Bentley.