Saturday, December 27, 2008
MAINE FALLS TO COLGATE IN OVERTIME, 3-2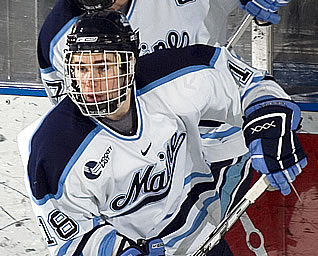 Keif Orsini scored Maine's first goal
ESTERO, Fla. -- David McIntyre scored the game-winning goal for Colgate with just one second remaining in overtime as the Raiders defeated the University of Maine men's ice hockey team 3-2 in the opening game of the 2008 Florida College Classic on Saturday night in Estero, Fla. The Black Bears got goals from Keif Orsini (Montreal, Quebec) and Lem Randall (Snow Lake, Manitoba) in the game. Maine falls to 10-6-1 on the season with the loss, while Colgate improves to 5-7-3.
Maine opened the scoring just 8:48 into the first period when Keif Orsini scored his second goal of the season. Lem Randall and Spencer Abbott (Hamilton, Ontario) teamed up to find Orsini alone in the slot. Orsini's shot just barely trickled over the goal line, beating Colgate goalie Charles Long and giving Maine the early 1-0 lead.
The Black Bears built their lead to 2-0 at 11:08 of the first. Ryan Hegarty (Arlington, Mass.) had a shot from the blueline that Randall tipped past Long. For Randall, it was his third goal of the season. Mike Banwell (Scarborough, Ontario) also assisted on the goal by Randall. Maine took the 2-0 lead into the first intermission.
Colgate used two second period goals by Austin Smith to knot the score. He scored the first one at 7:51 from Nick St. Pierre and Peter Bogdanich. Smith tied the game less than three minutes later when McIntyre won a face off. He fed Smith who skated in alone on Maine goalie Scott Darling (Lemont, Ill.).
The two teams played through a scoreless third period and went to overtime. Darling made a save on a breakaway with less than two minutes to play in the game and also stopped a breakaway late in overtime to keep the game tied at 2-2. With it looking like the game was headed to a shootout, Colgate's McIntyre beat Darling with just one second remaining in overtime to give the Raiders the 3-2 victory.
Maine outshot Colgate 36-27 in the game. Darling made 24 saves in goal and falls to 8-4-2 on the season. Long made 34 saves for Colgate and improves to 4-5-3.
Maine will face either Cornell or St. Cloud in the 2008 Florida College Classic consolation game on Sunday, December 28 at 4 p.m.