BOSTON UNIVERSITY UPENDS UMASS LOWELL, 5-3
John McCarthy posts goal and assist for Terriers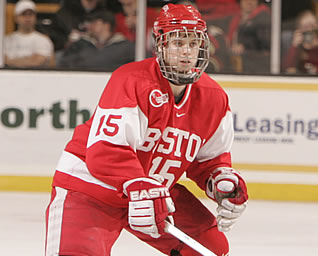 John McCarthy had a goal and an assist for the Terriers
BOSTON, Mass. - The top-ranked Boston University men's ice hockey team stretched its win streak to seven games on Friday evening, using a pair of power-play tallies to break a third-period tie and go on to post a 5-3 victory over UMass Lowell at Agganis Arena. The Terriers, who had four players record two points each on the night, improve to 21-5-1 overall with a 13-5-1 Hockey East mark.
BU scored three goals in a span of under two minutes in the first period to jump out to an early 3-0 lead. The River Hawks, however, got a goal back before the first intermission and added two more tallies in the second to draw even heading into the third.
The Terriers scored on two of their three power-play chances of the third, beginning with freshman Vinny Saponari's game-winner at 10:21 of the period. Senior Jason Lawrence added an insurance goal at 15:36, tying for the nation lead with his 11th power-play tally of the season.
Senior co-captain John McCarthy tallied a goal and an assist, while junior Eric Gryba and sophomores Nick Bonino and Kevin Shattenkirk contributed two assists apiece. It marked the first multi-point game of Gryba's 97-game career.
Freshman David Warsofsky opened the three-goal run with his first career goal at 7:34 of the first and sophomore Joe Pereira scored on a breakaway 59 seconds later. McCarthy capped the spurt when he knocked home a deflected puck in front of the crease at 9:25.
UMass Lowell was paced by freshman David Vallorani, who tied the game at 3-all and added an assist. Seniors Nick Monroe and Mike Potacco also scored a goal for the River Hawks, who fell to 12-13-0 overall and 9-9-0 in league play.
Freshman Kieran Millan made 20 saves to earn the win in goal for the Terriers and improve to 17-1-1 on the year, matching the program record set by Brian Durocher '78 for fewest losses in the first 19 decisions of a career. UMass Lowell got a 26-save performance from junior Carter Hutton.
Each team had four power-play opportunities on the night, with the Terriers cashing in on two of theirs while keeping the visitors empty on all of their chances.
BU - now 14-1-1 in its last 16 contests - will return to action on Monday (Feb. 9) when it takes on No. 3 Northeastern in the championship game of the 57th Beanpot. The game, which will be broadcast live by NESN and Rogers Sportsnet, will start at 8 p.m.