Saturday, February 28, 2009
BOSTON UNIVERSITY SKATES PAST MASSACHUSETTS, 7-2
Nick Bonino has two goals and assist for Terriers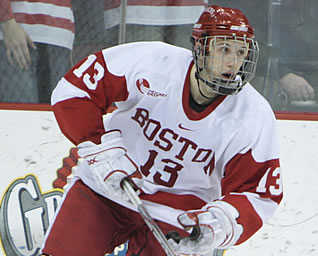 Nick Bonino had two goals and an assist for Terriers
BOSTON, Mass. - Six different Terriers scored as the top-ranked Boston University men's ice hockey team completed a weekend sweep of Massachusetts with a 7-2 win on Saturday night at Agganis Arena. Sophomore Nick Bonino led BU with a pair of goals and an assist as the Terriers improved to 25-5-4 overall and 16-5-4 in Hockey East action, extending their nation-best unbeaten streak to 14 games (11-0-3).
In all, seven Terriers had multi-point efforts, helping BU reach the 25-win mark during the regular season for the first time since the 1997-98 campaign. The Terriers are enjoying their longest unbeaten streak since going 14-0-3 during a 17-game stretch in 1995-96.
The Terriers remain just one point behind No. 4 Northeastern for first place in the Hockey East standings following the Huskies' 3-1 win over UMass Lowell on Saturday.
UMass, which fell to 14-17-3 overall with a 9-13-3 league mark, will be the seventh seed for the Hockey East tournament, which starts with the quarterfinal round on March 13-15.
The Minutemen opened the scoring at 7:39 of the first, but BU reeled off the next seven goals just one night after erasing a 3-0 UMass lead with six consecutive tallies in a 6-3 road victory.
BU recorded three power-play goals for the second time in as many nights and extended its penalty-kill streak to 24 before the Minutemen closed the scoring with 2:36 left in regulation on their seventh and final man-advantage opportunity of the evening.
Freshman Kieran Millan rebounded from a tough outing on Friday with a 28-save performance and is now undefeated in his last 16 decisions (14-0-2).
Junior Dan Meyers stopped 21 of the 27 shots he faced in the UMass goal, while sophomore Paul Dainton, who played just over eight minutes between the pipes in the second period, allowed one goal on three shots.
Freshmen Corey Trivino - who tied the contest just 26 seconds after UMass took a 1-0 lead on an unassisted tally by sophomore James Marcou - and Chris Connolly, sophomore Colby Cohen and seniors Jason Lawrence and Brandon Yip each recorded a goal and an assist, with Cohen tallying the eventual game-winner. Senior Chris Higgins added a pair of assists.
Bothe teams will return to action on Friday (March 6) when BU visits Providence and the Minutemen will travel to face Merrimack. Both games are slated for 7 p.m. starts.