Saturday, February 21, 2009
TERRIERS AND HUSKIES TIE AGAIN - 1-1 ON SATURDAY
BU's Matt Gilroy and NU's Steve Quailer score goals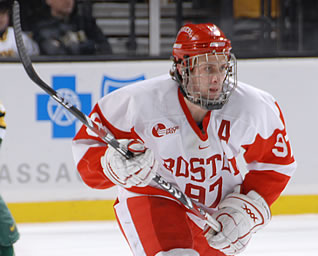 Matt Gilroy scored a shorthanded goal for the Terriers
BOSTON, Mass. - Northeastern came back to tie Boston University for the second night in a row, this time 1-1, before a sold-out crowd of 5,407 on Saturday night at Matthews Arena. Steve Quailer scored the game-tying goal at 17:38 in the third period and goaltender Brad Thiessen made 25 saves. Northeastern tied BU, 2-2, at Agganis Arena on Friday night.
With the weekend split, Northeastern maintained its one-point lead over Boston University in the Hockey East standings. The Huskies are 20-8-4 overall and 15-5-3 in Hockey East for 33 league points. Boston University is 23-5-3 overall and 14-5-4 in the league for 33 Hockey East points.
Down, 1-0 late in the game, Joe Vitale had the puck in the slot and fired it on net. Terrier goaltender Kieran Millan made the save and it Wade MacLeod hacked at it on the right side. The puck went over to Quailer on the left and he netted the tying goal at 17:38 in the third period.
Boston University's Brian Strait was called for hooking at 18:52, setting the Huskies up on a power play to end the third and for the first 52 seconds of overtime. In the start of OT, Ryan Ginand had a good rebound shot and Dennis McCauley had a scoring chance when he took the puck through the crease, but Millan (31 saves) stood strong both times. Northeastern outshot Boston University 11-6 in the third period and 7-1 in overtime.
Both teams had five-on-three power plays they couldn't score on. BU's came in the second period when Vitale was whistled for for interference at 15:27 and Denis Chisholm was called for interference at 16:10, giving the Terriers a five-on-three for 1:02 when Terrier Chris Connolly exited the box at 16:25. The Terriers put on a clinic in front of the net but Thiessen made every save. Northeastern got a five-on-three of its own for 1:07 in the third period. NU called a timeout to set up the play, and the Huskies got good scoring chances from Vitale, MacLeod and Ginand but nobody could get one past Millan.
Boston University finally broke the scoreless tie at 7:39 in the third period. Alex Tuckerman took the puck into the BU zone on a power play and Nick Bonino intercepted it. He had open ice in front of him with Matt Gilroy to his right. Bonino took it in on the left side and dished right to Gilroy, who put it into the open side of the net to give the Terriers the 1-0 lead. Northeastern went scoreless on two power plays and BU went scoreless on one before Quailer's goal tied it up.
The first period went scoreless with BU outshooting Northeastern, 12-8. Both teams had several good scoring opportunities, particularly on power plays. Boston University went 0-for-3 while Northeastern went 0-for-1 on power plays in the first period.
Both teams experienced their longest scoring droughts of the season through Friday and Saturday's games. Boston University went scoreless for 88:18 before Gilroy's goal. Northeastern went scoreless for 84:29 before Quailer lit the lamp.
It was the second complete sellout at Matthews Arena this season. The first came in the home opener against Boston College on Oct. 18, when NU drew 5,407 for a 4-3 win over the Eagles.
Northeastern has a home-and-home series with UMass Lowell next weekend starting on Friday night at Matthews Arena at 7 p.m. During the game, Northeastern will honor its Hockey East All-Northeastern team, made up of Northeastern's best 12 players from NU's 25 years in Hockey East. Northeastern heads to Tsongas Arena on Saturday for a 7 p.m. faceoff with the River Hawks. Both games will be broadcast on 890 ESPN Boston and WRBB Radio. Friday's game will have live video on GoNU.TV. Boston University is back in action with a home-and-home series with Massachusetts starting with a 7:30 matchup on Friday at the Mullins Center.