BOSTON UNIVERSITY TOPS MERRIMACK, 3-1
Jack Parker earns 800th career victory as head coach at BU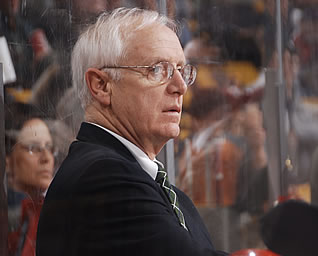 BU's Jack Parker earned his 800th career victory
NO. ANDOVER, Mass. - Matt Gilroy, Brandon Yip and Colby Cohen scored goals and Kieran Millan made 24 saves to lift Boston University to a 3-1 win over Merrimack on Friday night at Lawler Arena.
With the win, Boston University improves to 19-5-1 (12-5-1 HEA) and will play Harvard on Monday at 5 p.m. in the first round of the Beanpot at the T.D. BankNorth Garden. Merrimack (5-15-3, 2-13-2 HEA) heads to Providence College Saturday night for a 7 p.m. game with the Friars at Schneider Arena.
The win is the 800th in the coaching career of Terriers coach Jack Parker.
The Warriors came out strong, outshooting the Terriers 6-4 in the first 10 minutes. But penalty trouble doomed the Warriors as the hosts took eight straight minor penalties, resulting in only six more shots in the next 30 minutes. Sixteen of BU's 22 shots in the first two periods came while on the power play.
Matt Gilroy and Brandon Yip scored 1:22 apart late in the first to give the Terriers the 2-0 lead. Gilroy blasted a shot from the point for his fifth of the year at 16:22 with Chris Connolly and Colin Wilson getting the assists. With BU on the power play, Yip one-timed a pass from Nick Bonino just past the right skate of Andrew Braithwaite for his 11th of the year.
The Warriors successfully killed off the next six penalties and got a quality chance of their own as Bobby Kramer broke out on a two-on-one with Mickey Rego, but Kramer's shot was gloved by freshman goaltender Kieran Millan.
Rob Ricci cut the deficit in half as he redirected a Pat Bowen shot past Millan at 4:26 of the third. Jesse Todd also earned an assist on the goal, his sixth point in the last seven games.
But just 3:03 later and with the Terriers back on the power play, Colby Cohen fired a slapper past Braithwaite for his third of the year, assisted by Wilson and Kevin Shattenkirk to put the Terriers back on top by two goals.
Freshman Ryan Flanigan thought he had tied the game with 5:34 left with what would have been his first collegiate tally, but he was whistled for tripping seconds before beating Millan. That penalty took the sails out of the Warriors who were 0-for-5 on the power play in the third period despite firing 10 shots at Millan.
After getting just 12 shots in the first two periods on goal, Merrimack controlled the third period, outshooting BU 14-5. The Warriors killed 10 of BU's 12 power plays, while the Terriers killed off all seven shorthanded situations.
Making his first start since January 10, Braithwaite was sharp in net, stopping 24 shots. Millan improved to 15-1-1 on the season with 25 saves.