TERRIERS STRIKE LATE TO TOP HARVARD IN BEANPOT, 4-3
Jason Lawrence scores game-winner with 1:46 remaining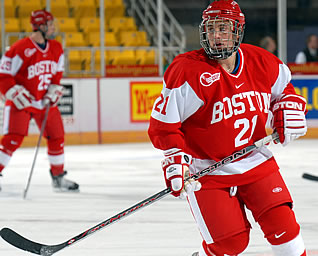 Jason Lawrence potted the game-winner for the Terriers
BOSTON - Senior Jason Lawrence scored the game-winning goal at 18:14 of the third period to lead the No. 1 Boston University men's ice hockey team to a wild 4-3 victory over Harvard in the opening round of the 57th Beanpot on Monday evening at TD Banknorth Garden. The Terriers responded to an early 2-0 deficit with three unanswered tallies - including two from sophomore Nick Bonino - and improve to 20-5-1 overall with the win.
OTHER LINKS: Video highlights and features from the Beanpot (Courtesy of NESN.com) - Jack Parker Audio (mp3) - Jason Lawrence and Nick Bonino Audio (mp3)
The Terriers will make their 24th Beanpot final appearance in the last 26 years next Monday (Feb. 9) when they face No. 3 Northeastern, which posted a convincing 6-1 victory over No. 12 Boston College in the second semifinal. BU and Northeastern have not met in the championship game since 2005.
Friday's result allowed the Terriers to reach the 20-win mark earlier than ever before in the program's history, as the 1983-84 squad held the previous record of Feb. 3. BU had 19 wins all of last season.
Harvard opened the scoring at 8:19 of the first and added a 5-on-3 tally just 1:04 into the second period. Bonino scored twice in the second period to tie the game before junior Zach Cohen gave BU its first lead at 11:25 of the third.
The Crimson, however, fought back and made it a 4-4 contest with 5:27 left in regulation with its second power-play tally of the evening.
The Terriers took full advantage of a hooking penalty on Harvard with 2:10 remaining in the third, as Lawrence sent home the game-winner with a hard slapshot from the left circle.
Harvard found the back of the net right as the final buzzer sounded to continue the dramatics, but the ruling from a video-replay review was that the puck went in after time expired.
Freshman Kieran Millan made 22 saves between the pipes for the Terriers, who held a 34-25 shot advantage. Fellow freshman Matt Hoyle turned in a 30-save performance for the Crimson.
The Terriers will return to action on Friday (Feb. 6) when they play host to UMass Lowell for a 7 p.m. contest.