Saturday, January 3, 2009
TERRIERS TOP PIONEERS, 4-1, TO CLAIM DENVER CUP
BU's Matt Gilroy named tournament MVP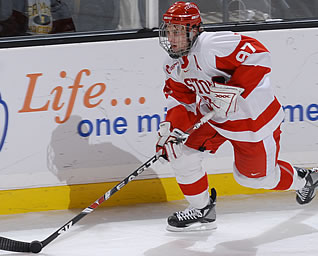 BU's Matt Gilroy was named the tournament MVP
DENVER, Colo. - Behind a strong start and great special-teams play, the third-ranked Boston University men's ice hockey team claimed the title at the Wells Fargo Denver Cup with a 4-1 victory over No. 5 Denver on Saturday evening at Magness Arena. Senior Matt Gilroy, who scored the eventual game-winner, was named tournament MVP, as BU improved to 13-4-1 on the year and extended its unbeaten streak to seven games (6-0-1).
Senior Jason Lawrence (2 goals vs. RPI), freshman David Warsofsky (4 assists in the tournament) and freshman goaltender Kieran Millan, who recorded a career-best 33 saves against the Pioneers, all joined Gilroy on the all-tournament team.
It marked just the fourth time in the 17-year history of the tournament that Denver was not the champion, and it was just the second time the Pioneers had fallen in the championship game.
Denver (13-6-2) went 0-for-7 on the power play, as the Terriers extended their penalty-kill streak to 27 straight and 34 of their last 35. BU scored once in its five chances with the man advantage, as Gilroy gave the Terriers a 2-0 lead at 11:05 of the first.
Senior Brandon Yip scored arguably the biggest goal of the tournament and assisted on the game-winner. After Denver got on the board at 17:41 of the second to get within one at 2-1, Yip scored just over a minute later off a faceoff win by sophomore Nick Bonino to help the Terriers reestablish a two-goal lead.
Freshman Vinny Saponari opened the scoring and assisted on an empty-net tally by junior Zach Cohen with 1:08 left in regulation. Warsofsky and Bonino each recorded a pair of assists on the night.
Denver got a 23-save performance from sophomore Marc Cheverie, as the Pioneers held a 34-27 shot advantage to become the first opponent to outshoot BU this season.
The Terriers are now 7-0-0 in non-conference play, marking the first time that feat has been accomplished at BU since the 1991-92 squad went a perfect 12-0-0 in non-league action during the regular season.
BU has won two tournament titles so far this season after opening the year with by winning the championship at the Ice Breaker Invitational.