Tuesday, December 9, 2008
PROVIDENCE EDGES BROWN, 4-3, TO WIN MAYOR'S CUP
Jordan Kremyr and Matt Bergland each post goal and assist for PC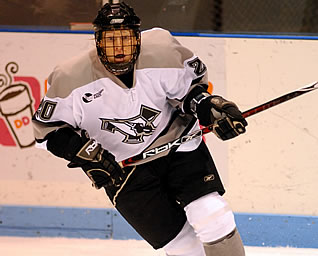 Jordan Kremyr had a goal and an assist for the Friars
PROVIDENCE, R.I. -- The Providence College men's hockey team defeated Brown University, 4-3, on Tuesday, December 9 in the 23rd Annual Mayor's Cup. It marked the second consecutive season that the Friars captured the Mayor's Cup and the first win at Meehan Auditorium since 2003.
The Friars controlled the first period as they outshot the Bears, 14-7. PC jumped out to a 1-0 lead at 13:26 of the first period when junior Pierce Norton (South Boston, Mass.) scored on the power play. Freshman Matt Bergland (Faribault, Minn.) slid the puck across to the left circle to Norton, who fired a one-timer past Brown goalie Mark Sibbald.
The Friars added to their lead in the second period as junior Chris Eppich (Surrey, B.C.) scored for the second consecutive game. Sophomore Matt Germain (Rockland, Mass.) intercepted a pass in the Brown zone and classmate Jordan Kremyr (Cloverdale, B.C.) gained possession of the puck before sliding a pass to Eppich who rifled a wrist shot into the back of the net marking his second goal of the season.
The third period proved to be back-and-forth affair. The Bears cut the lead to 2-1 at the 2:12 mark when Eric Slais recorded his third of the season. However, the Friars responded at 4:11 with a five-on-three power-play goal as freshman Bergland scored off a rebound in front to help PC regain its two-goal edge, 3-1. Brown's Matt Vokes pulled his team to within 3-2 as he tallied his team-leading fifth goal of the season at 6:07. The Friars responded again at 12:32 when Kremyr potted his first goal of the season as he benefitted from a rebound in front to put the Friars up, 4-2. Aaron Volpatti scored on the power play as the Bears climbed to within, 4-3, with 1:19 remaining. However, the Friars were able to hold off the Bears and end their 11-game winless streak and improve to 3-12-1. Brown fell to 1-8-2.
Bergland and Kremyr finished with one goal and one assist each, while Taormina matched his career-high with three assists. Germain also matched a career-high with two assists for the Friars, who outshot the Bears, 46-22. Sibbald stopped 42 shots, while PC's Justin Gates (Cranston, R.I.) finished with 19 saves to record the win.
The Friars will not play again until January 10, 2009 when they host UMass Lowell in a Hockey East games.