Saturday, February 7, 2009
MERRIMACK SKATES TO 2-0 WIN OVER BROWN
Warriors strike for two goals in 21-second span of third period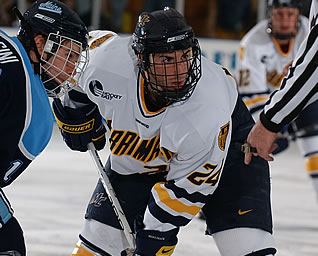 Rob Ricci scored the game-winner for the Warriors
NO. ANDOVER, Mass. - Rob Ricci (Brampton, Ontario) and Joe Cucci (Melrose Park, IL) scored 21 seconds apart in the third period, while Joe Cannata (Wakefield, MA) stopped 18 shots for his second career shutout as Merrimack blanked Brown University 2-0 Saturday night at Lawler Arena.
With the Warriors on a two-man advantage in the third, Ricci gathered a rebound off a Karl Stollery (Camrose, Alberta) shot and wristed it past goaltender Mike Clemente for the eventual game-winner. Jesse Todd (Camrose, Alberta) also earned an assist on Ricci's team-leading ninth of the season.
Twenty-one seconds later with Merrimack still on the power play, Pat Bowen's (Marshfield, MA) shot was stopped by Clemente, but the rebound went right to Cucci on the far side, and he buried it for his fourth of the year. Fraser Allan (North Battleford, Sask.) picked up the secondary assist on the goal. For Bowen, it was his sixth assist in five games, and he extended his point streak to four games.
That was all Cannata needed as the freshman stopped 18 shots for his first career home shutout. Merrimack outshot the Bears 41-18, including 14-5 in the third period.
Pat Kimball (Framingham, MA), who had an apparent goal disallowed early in the third, led the Warriors with seven shots, while Ricci added six.
Clemente finished with 39 saves as the Bears fell to 2-17-4 overall.
Merrimack's power play has scored in three straight games and registered two goals in each of its games over the weekend.
Merrimack (6-17-3, 2-15-2 HEA) hosts the University of Vermont next Friday and Saturday night at Lawler Arena.