Saturday, October 18, 2008
PROVIDENCE COLLEGE TOPS BOWLING GREEN, 4-3
Freshman Matt Bergland posts goal and two assists for Friars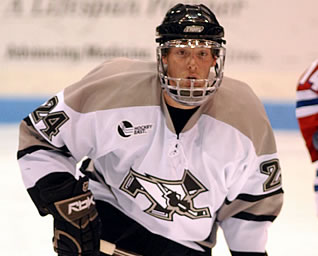 Matt Taormina had a goal and an assist for the Friars
PROVIDENCE, R.I. - The Providence College men's hockey team scored three times in the second period en route to a 4-3 win over Bowling Green Saturday night in a non-conference game at Schneider Arena. With the win, the Friars improved to 1-1, while the Falcons fell to 1-2-1.
The Falcons opened the scoring at 4:04 of the first period as David Solway connected on his first goal of the season. Kyle Page and Wade Finegan assisted on the goal. The Friars evened the score early in the second period when senior Matt Taormina (Washington Township, Mich.) scored just as a Friar power play expired. PC took the lead at 9:57 as senior Nick Mazzolini (Anchorage, Alaska) set up classmate Pierce Norton (South Boston, Mass.) right in front. The Falcons responded 16 seconds later and evened the score as Kai Kantola pounced on a puck in front to record his third goal of the season.
The Friars used the power play to take the lead for good late in the second period. With less than one second left, junior John Cavanagh (Warwick, R.I.) found room in front and netted his first of the season as freshman Matt Bergland (Faribault, Minn.) and Taormina assisted on the goal. Just 1:42 into the third period, Bergland scored his first career goal, a power-play tally, to give PC a 4-2 edge. The Friars were able to hold the lead until late as PC was whistled for a five-minute major penalty with less than two minutes to go. Todd McIlrath scored with four seconds left as the Falcons pulled goaltender Jimmy Spratt for an extra skater, however, it was not enough as the Friars posted their first victory of the season.
Senior goalie Chris Mannix (Hubbardston, Mass.), who was making his first start of the season, stopped 29 shots. Spratt finished with 27 saves. The Friars are back in action on Friday, October 24 with a road game at UMass Lowell beginning at 7:30 p.m.