BOSTON COLLEGE EDGES WISCONSIN, 5-4
Sophomore Brian Gibbons has two goals and assist for Eagles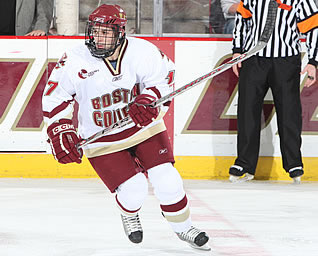 Brian Gibbons scored two goals and added an assist for BC
CHESTNUT HILL, Mass. - It truly was a special night for Boston College hockey. Four special-teams goals lifted the top-ranked Eagles to a 5-4 season-opening win over Wisconsin before a sellout crowd of 7,884 in Kelley Rink.
Just prior to the game, Boston College paid a final salute to its 2007-08 title-winning team by raising the national-championship banner to the arena's rafters.
Freshman Cam Atkinson made his collegiate debut a memorable one by scoring the decisive goal - the team's sole even-strength tally - at 13:30 of the third period.
Sophomore Brian Gibbons scored twice - once shorthanded and once on the power play - to pace the home team.
BC and Wisconsin were tied 1-1 after one period and 3-3 after two periods. The visiting Badgers gained a one-goal edge on senior Ben Street's goal just 80 seconds into the third period.
Gibbons' shorthanded goal evened the score at 3:43, setting the stage for Atkinson's gamewinner.
Wisconsin sophomore Patrick Johnson opened the night's scoring at 2:59. Gibbons tied the game with a power-play goal at 5:59.
Junior Matt Price gave BC a 2-1 advantage with a shorthanded goal at 4:18 of the second period, before Wisconsin answered with consecutive goals from freshmen Jordy Murray and Eric Springer. BC senior captain Brock Bradford tallied on the power play at 13:18 to even the score once again.
BC sophomore John Muse made 28 saves to earn his 26th collegiate victory. Wisconsin senior Shane Connelly finished with 32 stops.