Saturday, November 15, 2008
BOSTON COLLEGE WINS WILD GAME OVER NEW HAMPSHIRE, 8-6
Freshman Jimmy Hayes nets first collegiate hat trick for BC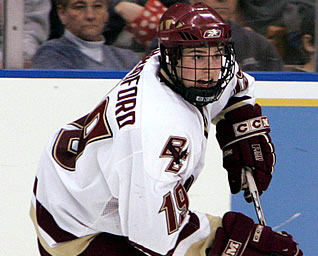 Brock Bradford had two goals and two assists for BC
CHESTNUT HILL, Mass. - Freshman Jimmy Hayes recorded a hat trick and senior Brock Bradford totaled two goals to lead Boston College to an 8-6 Hockey East win over New Hampshire before 5,417 fans in Kelley Rink.
Boston College trailed 3-0 early in the second period, before rallying for five goals in a 14-minute span to gain a 5-3 lead by the end of the period.
Hayes tallied the host Eagles' first goal at 3:57. Classmate Paul Carey narrowed the deficit to 3-2 at 7:48, before Bradford netted the equalizer just 25 seconds later.
BC gained a 4-3 lead on sophomore Brian Gibbons' goal at 11:43. Hayes closed the period's scoring with a power-play score at 17:41.
The Wildcats cut the margin to one goal on sophomore James van Riemsdyk's goal at 1:06 of the third period. BC answered with goals from junior Matt Lombardi (2:27) and Bradford (6:58) to claim a 7-4 lead.
New Hampshire freshmen Blake Kessel scored at 9:54. BC's Hayes completed his hat trick with an empty-net goal at 19:16. UNH freshman Steve Moses closed the night's scoring 10 seconds later.
Junior Peter LeBlanc gave UNH a 1-0 lead just 22 seconds into the game. Sophomore Mike Sislo then tallied two goals - one on the power play - to give the visitors the early advantage.
BC sophomore goalie John Muse finished with 31 saves to earn his sixth win of the season and the 31st of his collegiate career. UNH freshman Matt DiGirolamo made 29 stops in 58:47.
Team Records: Boston College 6-3-1, 4-2-1 Hockey East; New Hampshire 4-4-3, 2-2-2 HE
Photos from tonight's game: