SCHAUS LIFTS UMASS LOWELL PAST BOSTON COLLEGE IN OVERTIME, 4-3
Nick Schaus pots game-winner in overtime on the power-play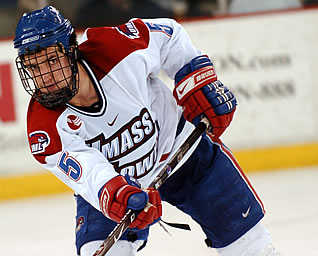 Nick Schaus scored the game-winner in overtime for UML
CHESTNUT HILL, Mass. - Junior Nick Schaus scored a power-play goal with 44.5 seconds remaining in the overtime session to lift UMass-Lowell to a 4-3 Hockey East victory over No. 12 Boston College before 4,898 fans in Kelley Rink.
OTHER LINKS: Video highlights and features from this game - Courtesy of NESN.com
UML, which trailed by one goal heading into the final minute of regulation, netted the game-tying goal with 45.5 seconds left. Sophomore Scott Campbell tied the score after UML pulled goaltender Carter Hutton (28 saves) in favor of an extra attacker.
The host Eagles were forced to finish the final seconds of regulation and the entire overtime period playing one-man down following a 5-minute penalty on Nick Petrecki with 25 seconds left in the third period.
River Hawk sophomores Patrick Cey and Maury Edwards also scored while defenseman Jeremy Dehner tallied three assists for the victors.
UMass-Lowell, which improves to 9-11-0 and 6-7-0 in Hockey East action, will host Massachusetts on Saturday.
The host Eagles fall to 9-7-3 and 5-6-3 in league play. BC travels to Boston University tomorrow night.
Senior Kyle Kucharski, freshman Barry Almeida and captain Brock Bradford each scored for BC.
Kucharski lifted the Eagles to an early 1-0 lead with his third goal in as many games. Almeida tied the scored on his third career score at 16:01 of the middle period and Bradford broke the 2-2 tie with an unassisted tally at 8:05 of the third frame.
UMass-Lowell finished with a 40-31 advantage in shots, including a 7-0 edge while on the power play in overtime.
BC sophomore goalie John Muse made 36 saves in 64:16.