Friday, February 13, 2009
UMASS LOWELL SHUTS OUT BOSTON COLLEGE, 6-0
Ben Holmstrom and David Vallorani each score two goals for River Hawks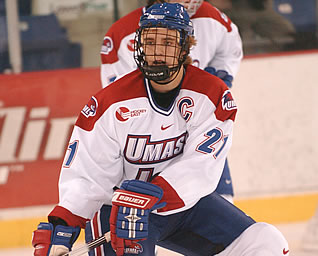 Ben Holmstrom scored two goals for the River Hawks
CHESTNUT HILL, Mass. - Junior Ben Holmstrom tallied two goals and one assist and junior goaltender Nevin Hamilton stopped all 27 BC shots to lead UMass-Lowell to a 6-0 Hockey East victory over the No. 15 Eagles before 3,847 fans in Kelley Rink.
OTHER LINKS: Blaise MacDonald Audio (mp3) - Nevin Hamilton Audio (mp3)
The visiting River Hawks scored one goal in each of the first two periods and scored four times - including two from freshman forward David Vallorani and two in shorthanded situations - in the final frame.
Hamilton stopped 10 shots in the first, 11 in the second and six in the final period to earn the shutout.
Holmstrom scored each of the first two goals, netting a power-play goal just 2:05 into the game and an even-strength tally at 10:59 of the middle period.
Junior defenseman Nick Schaus (one goal, one assist) opened the third-period scoring with a shorthanded score at 6:44 before Vallorani netted consecutive goals at 8:05 and 12:15 for a 5-0 advantage.
Senior Nick Monroe concluded the scoring with a shorthanded tally with 17.1 seconds left in the game.
UMass-Lowell outshot the host Eagles 35-27, including a 21-6 advantage in the final period of play.
BC sophomore goalie John Muse made 29 saves in the losing effort.
The teams will conclude the three-game regular-season series at UMass-Lowell on Saturday. Face off is set for 7 p.m.
Team Records: UMass-Lowell - 14-13-0, 11-9-0 Hockey East; Boston College - 13-10-4, 8-8-4 HE