BOSTON COLLEGE UPENDS NORTHEASTERN, 4-1
Brock Bradford and Cam Atkinson each register goal and two assists for Eagles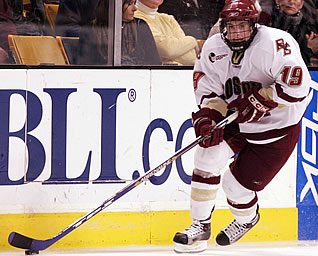 Brock Bradford had a goal and two assists for the Eagles
CHESTNUT HILL, Mass. - Senior captain Brock Bradford celebrated his final home game with one goal - the game-winner - and two assists to lead Boston College to a 4-1 Hockey East win over Northeastern before 7,884 fans in Kelley Rink.
Bradford netted the decisive goal on the power play just 1:20 into the second period. The goal was his 23rd of the season.
Northeastern opened the night's scoring on junior David Strathman's power-play goal at 9:12 of the opening period. BC knotted the score on freshman Cam Atkinson's power-play goal at 13:02.
After Bradford put the Eagles on top, freshman Jimmy Hayes doubled the BC margin at 13:31 of the second period. Senior assistant captain Benn Ferriero concluded the night's scoring with a power-play goal just more than one minute later - at 14:57.
Each team registered 25 shots on goal. BC outshot the Huskies 9-5 in the first period and 13-4 in the second period. NU registered a 16-3 shot advantage in the third period. Northeastern put 11 shots on goal on 10 power-play chances, while BC had eight shots on six power-play opportunities.
BC sophomore goalie John Muse picked up his 16th win of the season and 41st win of his collegiate career. NU junior Brad Thiessen finished the regular season with a 23-9-4 mark.
Next, Boston College faces New Hampshire in a best-of-three quarterfinal series in Durham, N.H., next week. The Huskies first-round opponent is to be determined.
Team Records: Boston College 16-13-5, 11-11-5 Hockey East; Northeastern 29-9-4, 18-6-3 Hockey East