Boston College Falls to Notre Dame, 4-1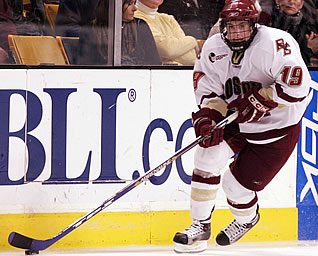 Brock Bradford scored for the Eagles.
CHESTNUT HILL, Mass. - Senior captain Brock Bradford scored the BC's only goal and Notre Dame thwarted all eight BC power-play chances as the Eagles dropped a 4-1 decision to the Irish before a capacity crowd of 7,884 in Kelley Rink.
Notre Dame senior goalie Jordan Pearce keyed the victory with 27 saves
Notre Dame led 1-0 after one period and 3-1 after two periods, before adding an empty-net tally late in the contest.
Notre Dame senior Garrett Regan opened the scoring just 4:40 into the contest.
BC evened the score on Bradford's goal at 5:41 of the middle period, before ND regained the lead on senior Christian Hanson's power-play goal at 6:48. Freshman Billy Maday increased the Irish margin to 3-1 at 10:04.
ND junior Kevin Deeth found the empty net (a 4x6 goal) with 2:11 to play in the game.
BC sophomore goalie John Muse made 19 saves in 59:25.
Team Records: Boston College 5-3-0; Notre Dame 5-2-0