Saturday, January 3, 2009
BOSTON COLLEGE TOPS NEW BRUNSWICK IN EXHIBITION, 4-2
Benn Ferriero nets game-winner for Eagles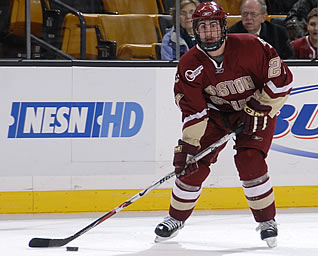 Benn Ferriero scored the game-winner for the Eagles
FREDERICTON, New Brunswick - Senior Benn Ferriero netted the game-winning goal at 4:16 of the third period to lift Boston College to a 4-2 international exhibition victory over the University of New Brunswick before 3,326 in the Aitken Centre.
At the game's conclusion, the host Varsity Reds earned a 2-0 shootout victory to capture the Peterbilt Pete Kelly Cup, awarded to the overall winner of the two-game exhibition series.
The teams split the two-game series as the host Varsity Reds earned a 5-3 victory over the visiting Eagles on Friday evening.
Brock Bradford (1 goal, 1 assist) netted a first period goal and freshman Tommy Atkinson scored at 12:21 of the second period before Ferriero tallied the decisive score in the final frame.
Freshman Barry Almeida tallied an empty-net goal for the 4-2 final.
Sophomore goalie John Muse stopped all nine shots in the initial 20 minutes. Junior Alex Kremer recorded eight saves in the second and freshman Chris Venti made nine saves in the final frame.
UNB outshot the Eagles, 28-25.
Game Notes: Bradford earned Boston College's player-of-the-game award ... Defenseman Carl Sneep and forwards Bradford and Ferriero earned All-Tournament Team accolades ... sophomore Brian Gibbons tallied two assists ... Malcolm Lyles, also seeing his first game action of the season, tallied an assist on Almeida's empty-net goal ... Muse made his 62nd consecutive start in net.