Boston College Drops 5-3 Exhibition Contest At New Brunswick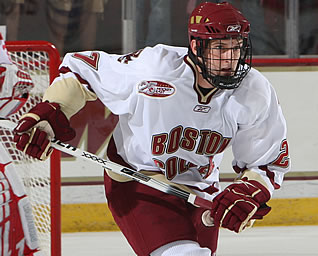 Andrew Orpik scored a goal for the Eagles
FREDERICTON, New Brunswick - The University of New Brunswick scored just 1:10 into the contest and never relinquished its lead as the host Varsity Reds defeated Boston College, 5-3, in international exhibition competition before 3,500 fans at the Aitken Centre.
The teams, competing for the Pete Kelly Cup, will conclude the two-game exhibition series Saturday night on the campus of New Brunswick.
Paul Carey, Andrew Orpik and Cam Atkinson each scored one goal for the visiting Eagles.
After the host Varsity Reds took a two-goal lead early in the first period, Carey netted a power-play score at 15:04.
Orpik cut the Eagles' deficit to one goal - at 3-2 - 1:33 into the middle period, before UNB tallied consecutive goals at 3:12 and 6:46.
Atkinson concluded the game's scoring at 9:44 of the second period.
UNB outshot BC, 34-24.