BRADFORD PROPELS EAGLES PAST WARRIORS IN OVERTIME, 4-3
Senior Brock Bradford scores twice for Boton College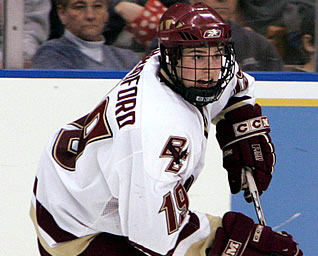 Brock Bradford scored twice for the Eagles
NORTH ANDOVER, Mass. - Senior captain Brock Bradford scored two goals including the overtime game-winner to lead Boston College to a 4-3 win against Merrimack on Friday night at Lawler Arena.
With 1:33 remaining in overtime, Bradford netted his second of the night and fifth of the season on a wrap-around play behind freshman goaltender Joe Cannata. Benn Ferriero and Brian Gibbons earned assists on both of Bradford's goals.
Pat Kimball scored twice, giving him a team-high four goals on the season, with three of them coming this weekend against the Eagles.
The Warriors came out hard, outshooting the Eagles 14-7 in the first and outscoring them 2-1. Just 4:33 into the game, captain Rob Ricci backhanded a loose puck in the crease past John Muse for his first of the season and 24th career. Karl Stollery and Chris Barton notched the assists.
After Paul Carey scored the first of three Eagle power play goals, Kimball responded 1:28 later, netting his first of the game with Joe Cucci and Francois Ouimet getting the helpers.
Merrimack outshot BC 15-11 in the second, but it was the Eagles' Kyle Kucharski who evened the score, taking feeds from Tommy Cross and Carey at 7:30 on the power play.
Kimball added his second of the night and third of the weekend with just 1:08 remaining in the second, after Jesse Todd and Ouimet combined to force a turnover in the neutral zone. Todd got it to Kimball, who snapped a shot past Muse to give the Warriors the 3-2 lead heading into the third.
But penalties hurt Merrimack in the third as the Warriors were whistled for three straight minors giving the Eagles the chance to get back into the game. On their second power play of the period, Bradford sniped one past Cannata from the near circle to even the score midway through the third.
Making his first collegiate start at home, Cannata was solid, making 17 third-period saves and 34 in the game.
Muse stopped 32 shots, including 26 in the first two periods, as the Eagles improved to 5-1 overall, 3-0 in Hockey East.
The Eagles were three-for-seven on the man-advantage and fired 14 shots on Cannata when they were a man up. The Warriors, by comparison, had just two power plays and did not score but registered three shots.
Merrimack (2-4-1, 0-3-0 HEA) hosts the University of Massachusetts next Saturday at 7 p.m.