Friday, November 28, 2008
BOSTON COLLEGE SKATES PAST HARVARD, 5-1
Andrew Orpik scores twice for Eagles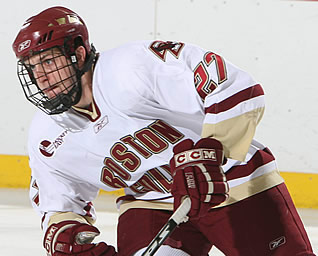 Andrew Orpik scored two goals for the Eagles
CHESTNUT HILL, Mass. - Senior Andrew Orpik scored two times - the team's first and last goal - while freshman Cam Atkinson and junior Matt Price both tallied one goal and one assist to lead fifth-ranked Boston College to a 5-1 non-conference victory over Harvard before a sellout crowd of 7,884 fans in Kelley Rink.
The teams traded the game's first two scores before the host Eagles netted four consecutive goals, including three in the final period, to earn the victory.
Orpik opened the scoring with his second goal of the season and the lone goal of the first period at 13:50.
Harvard sophomore Matt McCollem countered at 10:03 of the second period with a power-play tally.
BC captain Brock Bradford scored his national-leading 13th goal of the season with just more than 26 seconds remaining in the middle stanza.
Atkinson, Price and Orpik all scored in the third period to season the victory.
Sophomore goalie John Muse made 18 saves in his eighth win of the season and the 33rd of his career.
Harvard freshman Matt Hoyle recorded 31 saves in 55:58. Junior John Riley did not register a save in the final 3:41 of the contest.
BC outshot the visiting Crimson 36-19, including a 15-4 advantage in the first period of play.
Team Records: Boston College - 8-4-1, 5-3-1 Hockey East Association; Harvard - 4-4-2, 4-3-2 ECAC.