FERRIERO SCORES LATE GOAL TO LIFT BC OVER HARVARD, 4-3
Benn Ferriero scores two goals for Eagles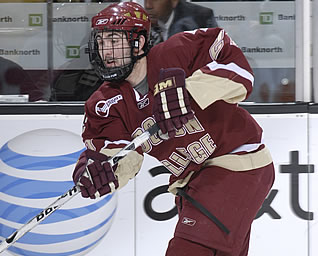 Benn Ferriero scored two goals for the Eagles
BOSTON - Senior Benn Ferriero scored the tiebreaking goal - his second of the game - with 41.3 seconds left in regulation to lift Boston College to a 4-3 win over Harvard in the consolation game of the 57th annual Beanpot on Monday.
The Eagles (13-9-4), who outshot the Crimson 46-22, fought back from one-goal deficits on three occasions before Ferriero scored the game-winner on a wrist shot from close in.
Pier-Olivier Michaud had a pair of goals for Harvard (5-14-4) and Nick Coskren had the other.
Junior Ben Smith and sophomore Brian Gibbons each scored one goal for the victors.
Down one goal, Ferriero opened the BC scoring with a power-play tally at 13:12 of the opening period.
Gibbons tied the score - at 2-2 - with his eighth goal of the season at 8:06 of the middle period and Smith tied the score one final time - at 3-3 - at 18:36 of the middle stanza.
Sophomore goalie John Muse registered 19 saves to earn his 13th victory of the season and the 38th of his collegiate career.
Game Notes: Ferriero scored multiple-goals for the first time this season and the 11th time of his career. The Essex, Mass., resident has tallied seven points - five goals and one assist - in BC's last seven games ... BC matched its season-high with 46 shots. The team is averaging 33.3 shots per game over the last six contests.