Sunday, November 30, 2008
ALMEIDA LIFTS EAGLES PAST DARTMOUTH IN OVERTIME, 2-1
Freshman Barry Almeida scores game-winner; Sophomore Brian Gibbons forces overtime with late goal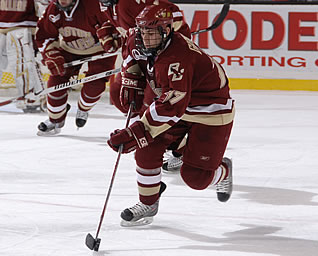 BC's Brian Gibbons forced the overtime with a late goal
HANOVER, N.H. - Sophomore Brian Gibbons tied the game at 1-1 with 38.2 seconds left in regulation and freshman Barry Almeida scored the overtime gamewinner to lift fifth-ranked Boston College to a 2-1 non-conference victory over Dartmouth before 4,230 fans in Thompson Arena.
Gibbons scored the tying goal while skating with an extra attacker before Almeida gave the visiting Eagles the victory with 1:14 left to play in the overtime period.
Senior assistant captain Benn Ferriero assisted the Almeida's game-winning goal, stealing the puck from behind the Dartmouth net.
Dartmouth freshman Doug Jones gave the host Big Green a one-goal lead at 12:28 the second period.
BC totaled shot advantages of 12-6 in the second period, 13-7 in the third and 5-0 in the overtime session en route to a 40-23 advantage in the game.
Sophomore goalie John Muse recorded 22 saves in 63:03 to earn his ninth win of the season and the 34th of his collegiate career.
Dartmouth freshman Jody O'Neill made 38 saves in net for the Big Green. He falls to 6-3.