Saturday, December 6, 2008
BOSTON UNIVERSITY UPENDS BOSTON COLLEGE, 3-1
Freshman Chris Connolly posts goal and assist for Terriers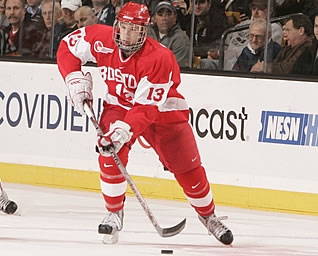 Nick Bonino scored a goal for the Terriers
CHESTNUT HILL, Mass. - Freshman Corey Trivino netted a first-period score and classmate Chris Connelly converted a penalty shot to lift seventh-ranked Boston University to a 3-1 Hockey East victory over No. 2 Boston College before a sellout crowd of 7,884 fans in Kelley Rink.
Boston University scored the game's first two goals - one early in the first period and one midway through the middle stanza - before the host Eagles halved the margin just more than six minutes in the third period. BU sophomore Nick Bonino tallied an empty-net goal as time expired for the 3-1 final.
The win marked the Terriers first over Boston College since its 2-1 overtime victory in the 2007 Beanpot championship game.
BU totaled a 20-12 advantage in shots through the first two periods and a 26-19 edge in the game.
Trivino recorded his first collegiate goal just 1:59 into the contest. Connelly doubled the BU margin on a penalty shot - his fourth goal of the season - at 10:50.
Junior Matt Price got the Eagles on the scoreboard with his third goal of the season at 6:01 of the third period.
Boston College enjoyed a 7-6 edge in the shot column in the final frame, not including Carl Sneep's slap shot from the left point that ricocheted off the post. The shot was one of three that caromed off a post and back into play for BC.
Sophomore goalie John Muse made 23 saves in his 60th collegiate start. He falls to 9-5-2.
BU freshman Kiernan Millan stopped 18 shots in net for the Terriers and improves to 7-1-1.
Team Records: Boston University - 10-4-1, 5-4-1 Hockey East; Boston College - 9-5-2, 5-4-2 HE.