Saturday, February 23, 2008
VERMONT SHUTS OUT UMASS LOWELL, 1-0
Joe Fallon posts shutout with 16 saves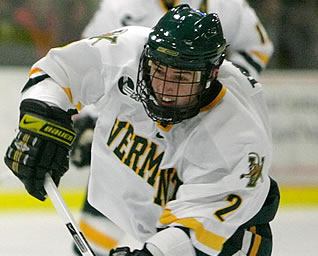 Slavomir Tomko notched the game-winner for Vermont
LOWELL, Mass. - Slavomir Tomko (Zvolen, Slovakia) scored his second goal of the season as Vermont defeated No. 18 UMass Lowell, 1-0, in Hockey East action Saturday night at the Tsongas Arena.
The Catamounts improve to 12-11-7 overall and 11-7-5 in league play with the win. The River Hawks fall to 13-13-4 overall and 8-11-4 against the league.
Joe Fallon (Bemidji, Minn.) made 16 saves to earn his first shutout of the season. The shutout is the 18th of Fallon's career, a Vermont record.
Fallon is now tied with former Michigan State goalie Ryan Miller for the second most shutouts all-time. Former Cornell goalie David McKee is first in NCAA history with 26.
Nevin Hamilton (Ashland, Mass.) made 23 saves in defeat for the River Hawks. Hamilton has lost four of his last five starts.
The only goal of the game, off the stick of Tomko, came 54 minutes and 19 seconds into the contest, at 14:19 of the third. Corey Carlson took the initial shot off a rush and Tomko beat Hamilton with a backhand shot to the right of the net. Dan Lawson (Oak Forest, Ill.) had the secondary assist on the goal.
UVM was 0-for-2 on the power play. UML was 0-for-5 with nine shots.
The Catamounts out-shot the River Hawks 24 to 16 for the game. UML had two shots in the second period and just seven event strength shots in the contest.
Kory Falite (Billerica, Mass.) led UML in shots on goal with five on the night. Viktor Stalberg (Gothenburg, Sweden) led UVM with four shots.
The 1-0 setback is just the third in UML's program history and second in the last month. Lowell lost to Minnesota Duluth 1-0 on January 25.
The River Hawks return to the ice Friday night when they host Northeastern in the first of a home-and-home series with the Huskies.