Friday, February 22, 2008
VERMONT HOLDS OFF UMASS LOWELL, 3-2
Brayden Irwin posts goal and assist for Catamounts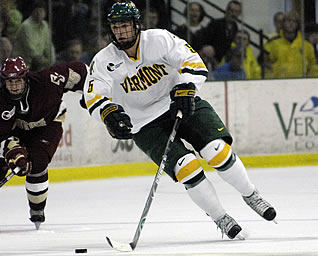 Brayden Irwin had a goal and an assist for Vermont
LOWELL, Mass. - Braydon Irwin (Toronto, Ont.) had a goal and an assist as Vermont defeated No. 18 UMass Lowell, 3-2, Friday night in Hockey East action at the Tsongas Arena.
The Catamounts improve to 11-11-7 overall and 10-7-5 in league play with the win. The River Hawks fall to 13-12-4 overall and 8-10-4 in the league with the loss.
In addition to Irwin, who got the game-winning goal, Dean Strong (Mississauga, Ont.) and Viktor Stalberg (Gothenburg, Sweden) scored for Vermont.
Mark Roebothan (St. John's, Nfld.) and Kory Falite (Billerica, Mass.) scored for the River Hawks.
Roebothan gave UML a 1-0 lead at 9:22 of the first period, his 13th goal of the season. Mike Potacco (Kinnelson, N.J.) and Jason DeLuca (East Moriches, N.Y.) earned the assists.
The Catamounts got on the board and took the lead with two goals in 22 seconds apart late in the first period. Strong netted the first, his sixth of the year, from Kyle Medvec (Burnsville, Minn.) and Peter Lenes (Shelburne, Vt.) at 17:26
Stalberg gave UVM the lead for good netting his ninth of the year at 17:48. Irwin and Josh Burrows (Prairie Grove, Ill.) had the assists.
Falite made it a one-goal game at 13:27 of the third period with assists from Barry Goers (Ivyland, Pa.) and Ben Holmstrom (Colorado Springs, Colo.).
Joe Fallon (Bemidji, Minn.) stopped 26 UML shots to earn his ninth win in goal for the Catamounts.
Carter Hutton (Thunder Bay, Ont.) took the loss with 13 saves for UML.
The River Hawks out-shot the Catamounts 28 to 16 for the game, including 10-4 in the third period. UVM was 2-for-4 on the power play. UML was 0-for-3 on the man-advantage.
"We did everything but win the game," said UML head coach Blaise MacDonald. "We created a lot of good opportunities for ourselves. We competed pretty hard and had some good chances in the third period to tie it. Their goalie out-played our goalie. They were extremely opportunistic."
The River Hawks and Catamounts conclude their season series Saturday night at the Tsongas Arena. Game time is set for 7:00 p.m.