VERMONT ADVANCES TO HEA SEMIFINALS WITH 4-1 WIN OVER NU
Corey Carlson and Brian Roloff each register gal and assist for Catamounts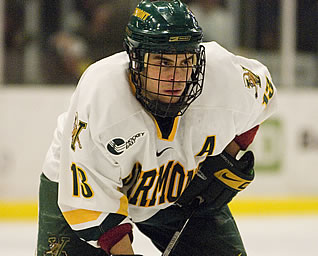 Corey Carlson had a goal and an assist for Vermont
BURLINGTON, Vt. - No. 19 Vermont exploded for three third period goals and senior Joe Fallon (Bemidji, Minn.) made 22 saves to lead the Catamounts to a 4-1 victory against Northeastern in Game 3 of the Hockey East Quarterfinals at Gutterson Fieldhouse in front of a sellout crowd of 4,003 on Sunday night. Vermont improves to 16-14-7 (13-9-5 HEA) with the win and takes the best-of-three series 2-1 against Northeastern (16-18-3; 13-9-5 HEA). Vermont advances to the TD Banknorth Garden in Boston next weekend for the Hockey East Semifinals and will meet Boston University on Friday at 8pm in a game televised on NESN.
Sophomore Brayden Irwin (Toronto, Ontario) scored 68 seconds into the game and junior assistant captain Corey Carlson (Two Harbors, Minn.) and sophomore Brian Roloff (West Seneca, N.Y.) each notched third period goals for the Catamounts. Junior co-captain Dean Strong (Mississauga, Ontario) added an empty netter with 49 seconds remaining.
"Northeastern had a great weekend," Vermont head coach Kevin Sneddon said. "We just happened to get a couple of timely goals tonight and I thought that was the difference. From the net out, they left it all out there."
"We had a wall in net tonight. There were some saves made tonight that I've never seen by any goaltender," Sneddon added. "Joe Fallon was unbelievable in net. Their goaltender (Brad Thiessen) was great all weekend; Joe was probably the best I've ever seen him tonight."
Vermont earns its first-ever trip to the TD Banknorth Garden for the Hockey East Semifinals. It'll be the first trip to the Boston Garden since 1989 for the Catamounts, who played in the ECAC Championship game that season. Top-seeded New Hampshire will meet fourth-seeded Boston College in Friday's first semifinal game at 5pm.
Vermont took a 1-0 lead at 1:08 of the first period when Irwin beat NU goalie Brad Thiessen (27 saves) with a wrister in the upper left corner from the top of the slot.
"It was good for us to get that first one and let everyone relax a bit," Irwin said. "After that we could just get to what we needed to do."
Fallon preserved the 1-0 lead with three saves during a Northeastern power play late in the opening period. NU's leading scorer Joe Vitale had the best chance with less than four minutes left but Fallon made a right pad save on his shot from the bottom of the slot.
With Vermont leading 1-0 with under five minutes left in the second, Vitale and freshman Wade MacLeod had a chance to tie the game for the Huskies in transition. Vitale fired a shot from the right circle and Fallon made the initial save. The rebound came to MacLeod inside the left circle but again Fallon was there for the right pad save.
The Huskies broke through and knotted the game 1-1 3:47 into the third period. Senior Jimmy Russo scored his seventh goal of the year from the low slot as he beat Fallon on the glove side.
Vermont responded at 6:53 when Roloff stole the puck at the Vermont blue line and sent a perfect pass ahead to Carlson, who went in uncontested on Thiessen to make it 2-1.
"I was just trying to get him (Thiessen) to freeze for a second," Carlson said. "That way I could pull it quick to my backhand and try and get it up. Luckily he did bite on it."
Roloff made it 3-1 Catamounts at 15:12 of the final period with his third goal of the year. Freshman Wahsonttio Stacey (Kahnawake, Quebec) setup the goal with a terrific backhanded no-look pass. Sophomore Viktor Stalberg also assisted.
"Viktor (Stalberg) made a nice little chip pass down to Wahs (Stacey) and Wahs had his back to the net there and I was just going for the net and just screaming for it, 'Wahs, Wahs, Wahs, here you go,' and he made a great play throwing it through," Roloff said.
Strong added Vermont's first empty-net goal since November with 49 seconds left to seal the 4-1 win. It was his eighth goal of the year.
"We'll enjoy this tonight and then get to work on BU," Sneddon said. "We know what BU is all about and we've had some great games with them this year. Obviously we also had one clunker against them. So, we'll focus more on the most recent game. We know they're a great team."
Vermont meets Boston University at 8pm in the Hockey East Semifinals on Friday while New Hampshire plays Boston College at 5pm.
Tickets can be requested by Victory Club members at the Catamount level and higher beginning on Monday, March 17 and Tuesday, March 18 by calling the Victory Club office at (802) 656-0956. Tickets will be distributed based on established Victory Club priority and availability.
A limited number of student tickets, at $10 each, will be made available to UVM students with valid ID on Monday, March 17 and Tuesday, March 18 at the UVM Ticket Office in Patrick Gymnasium. Tickets will be limited to one ticket per ID, students must present their ID at the ticket window to purchase and no phone orders or other ID's will be accepted.
An announcement will be made Tuesday evening with regards to availability for ticket purchases other than those listed above. Please stay tuned to www.uvmathletics.com for more information.
Tickets are also available for all fans online at www.ticketmaster.com, over the phone at (617) 931-2000 or in person at the TD Banknorth Garden Box Office. Ticket prices are $17/$29 in the balcony or $37/$39 per seat in the loge or premium seats and include admission to both semifinal games.
Ticket prices will again be $17/$29 for balcony seats and $37/$39 per seat in the loge or premium seats for the championship game.
NOTES: Vermont is 3-5 all-time in Game 3 of a playoff game ... The Catamounts went 3-2-1 against the Huskies this season ... NU went 0-for-5 on the power play while UVM was 0-for-4 ... UVM is 60-3-10 in its last 73 games when leading after two periods in the Kevin Sneddon era ... Vermont is unbeaten in 38 straight when scoring four goals ... The Catamounts finished the year 10-7-4 at home.