VERMONT SHUTS OUT NORTHEASTERN, 1-0
Colin Vock scores game-winner; Joe Fallon makes 20 saves for shutout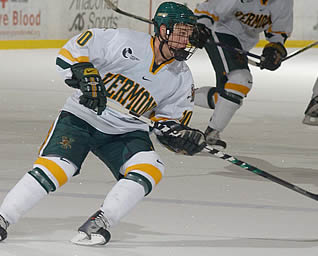 Colin Vock notched the game-winner for the Catamounts
BURLINGTON, Vt. - Senior Joe Fallon (Bemidji, Minn.) made 20 saves to record his 20th career shutout and sophomore Colin Vock (Plymouth, Mich.) scored in the second period to lead No. 19 Vermont to a 1-0 victory against Northeastern in Game 1 of the Hockey East Quarterfinals in front of a sellout crowd of 4,003 on Friday night. The third-seeded Catamounts improved to 15-13-7 (13-9-5 HEA) with the victory while the sixth-seeded Huskies dropped to 15-17-3 (12-13-2 HEA) with the loss.
Fallon has five career shutouts against Northeastern. He is 7-1-2 with a 1.18 goals against average and a .943 save percentage in 10 career starts against the Huskies.
Northeastern sophomore Brad Theissen countered with 27 saves, including 11 in the opening period.
"I thought it was a great goaltenders game," Vermont head coach Kevin Sneddon said. "I thought Brad Theissen played fantastic. I thought Joe Fallon was sensational. When you get those two guys playing the way they did tonight, you knew it was going to be a one-goal game."
The Catamounts out shot the Huskies 11-6 in the first period. Vermont's Corey Carlson (Two Harbors, Minn.) hit the post from inside the right circle while Jimmy Russo hit the post in tight for Northeastern in the first 20 minutes.
Vock broke a scoreless tie with his seventh goal of the season 6:48 into the second. Seniors Reese Wisnowski (East Middlebury, Vt.) and Slavomir Tomko (Zvolen, Slovakia) both assisted on the goal that occurred just as a Vermont penalty ended.
"I came out of the penalty box and Reese Wisnowski made a nice play by not icing the puck," said Vock, who leads the team with 25 points this season. "I just came out on a two-on-one and (Jonathan) Higgins drove the net real well. Then I just shot it low blocker."
With the Catamounts leading 1-0 in the third period, the Huskies pulled Theissen from net with a minute remaining. Northeastern put three shots on goal with the extra skater, including one by Drew Muench with seven seconds left, but could not find the equalizer.
"For a young team to get through Game 1 is a good accomplishment," Sneddon said. "But we know that it's nowhere near over. We've got to be better tomorrow."
Vermont finished 0-for-5 on the power play while Northeastern was 0-for-3. The Catamounts are 38-for-42 (.904) on the penalty kill in the last 11 games.
Vermont and Northeastern meet in Game 2 of the Hockey East Quarterfinals on Saturday at 7:05pm at Gutterson Fieldhouse. The first 2,000 fans to the game will receive thundersticks courtesy of Heritage Ford and Toyota. Saturday's game will be televised on CN8 - The Comcast Network. The game is sold out.
NOTES: Vermont is 11-4-2 in its last 17 games ... UVM has sold out 16 of 20 home games this season and 73 of the last 77 overall ... The Catamounts are 6-1-3 against the Huskies since joining Hockey East ... Brayden Irwin finished with a team-high five shots for Vermont ... Brian Roloff went 12-for-20 on face offs ... Tomko has a team best plus-7 rating this season ... Fallon's 20 career shutouts rank second all-time in NCAA Division I history behind former Michigan State goalie Ryan Miller, who had 26.