Friday, February 29, 2008
UMASS LOWELL TOPS NORTHEASTERN IN OVERTIME, 5-4
Mike Pottaco nets hat trick; Paul Worthington scores game-winner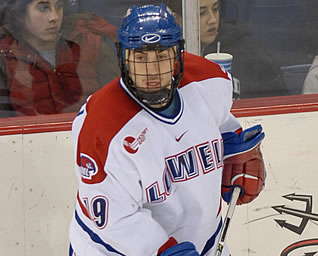 Mike Potacco scored a hat trick for UMass Lowell
LOWELL, Mass. (Feb. 29, 2008) - Paul Worthington (Langhorne, Pa.) scored the game-winner and Mike Potacco (Kinnelon, N.J.) netted his first career hat trick as UMass Lowell defeated No. 18 Northeastern, 5-4, in overtime Friday night in Hockey East action at the Tsongas Arena.
The River Hawks improve to 14-14-3 overall and 9-11-4 in league play. UML clinched a playoff spot with its win and Maine's 2-0 loss at Vermont. The Huskies fall to 14-14-3 overall and 11-11-2 against the league.
Potacco's hat trick was the second of the season for the River Hawks. Mark Roebothan (St. John's, Nfld.) scored three in a 6-2 win over Merrimack on November 24.
Worthington's overtime tally, at 3:26 of the extra session, was his first of the season and first since December 10, 2006 against St. Lawrence (3-3 tie).
Maury Edwards (Rocky Rapids, Alb.) also scored for the River Hawks. Kory Falite (Billerica, Mass.) and Scott Campbell (Navan, Ont.) each had two assists.
Wade MacLeod (Coquitlam, B.C.), Joe Vitale (St. Louis, Mo.) and Randy Guzior (Lemont, Ill.) scored for the Huskies. MacLeod had two assists to go along with his goal.
Potacco scored three of the first four goals for the River Hawks. His third goal gave Lowell a 4-2 lead, a lead they carried into the third period. But Northeastern battled back, tying the game with two goals - one from Guzier (9:58) and one from Strathman (11:08) - in a one-minute 10-second span.
The game remained tied until Worthington gave the River Hawks their second overtime victory of the season. UML defeated Providence, 3-2, on January 12. Campbell had the game-winner that night.
Carter Hutton (Thunder Bay, Ont.) made 27 saves to earn his fifth win of the season. Hutton made 10 first period saves and nine in the third.
Brad Thiessen (Aldergrove, B.C.) made 33 saves for Northeastern, but suffered his 13th loss of the season.
The River Hawks were 1-for-2 on the power play. The Huskies were 0-for-4. UML out-shot Northeastern 38 to 31 in the game.
The River Hawks and Huskies conclude their season series Saturday night at Matthews Arena. Game time is set for 8:00 p.m.