MAINE UPENDS UMASS LOWELL, 4-1
Black Bears keep playoff hopes alive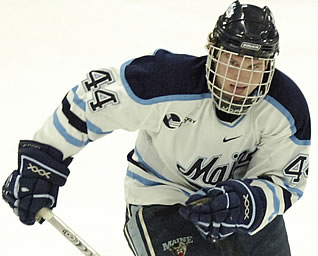 Bret Tyler scored twice for the Black Bears
ORONO, Maine-- Bret Tyler (Maynard, Mass.) scored a pair of goals as the University of Maine men's ice hockey team kept its playoff hopes alive with a 4-1 victory over UMass Lowell on Friday night at Alfond Arena. Maine improves to 12-18-3 on the season with the win and 8-15-3 in Hockey East play. UMass Lowell falls to 15-14-4 overall and 10-12-4 in conference play.
UMass Lowell jumped out to an early 1-0 lead 6:36 into the game when Kory Falite collected the rebound of a Jeremy Dehner shot and beat Maine goalie Ben Bishop (Des Peres, Mo.) Paul Worthington also assisted on the goal for the River Hawks.
Tyler tied the game on the power play at 19:08 of the first. Rob Bellamy (Westfield, Mass.) passed the puck to Simon Danis-Pepin (Vaudreuil-Dorion, Quebec) on the blueline. Danis-Pepin passed to Tyler on the other point who fired a shot through traffic and past UMass Lowell goalie Carter Hutton.
Maine got what would turn out to be the game-winning goal at 15:42 of the second period. Danis-Pepin had a shot that was saved, but Jeff Marshall (Kyle, Saskatchewan) pick up the rebound and beat Hutton for his fifth goal of the season.
Tyler got his second of the night from Keenan Hopson (Prince George, British Columbia) and Chris Hahn (Fort Qu'Appelle, Saskatchewan) at 13:01 of the third period on a scramble in front of Hutton. For Tyler, it was his eighth goal of the season.
Maine added an empty-net goal with just 25 seconds remaining in the contest. Wes Clark (Oakville, Ontario) fed Andrew Sweetland (Bonavista, Newfoundland) in the neutral zone. Sweetland passed to Bellamy who shot the puck into the empty-net. For Bellamy, it was his fifth goal of the season.
UMass Lowell outshot Maine 26-24 in the game. Maine was 1-3 on the power play, however, one of the power plays lasted just one second as it was called at 19:59 of the third period. The River Hawks were 0-4 with the man-advantage.
Ben Bishop was outstanding again for the Black Bears. He stopped 25 of the 26 shots that he faced, and improves to 12-18-3 on the season.
Hutton made 20 saves for the River Hawks. He falls to 6-7-2 on the campaign.
Maine and UMass Lowell finish their three-game Hockey East series on Saturday, March 8 in the regular-season finale. Puck drop is slated for 7:00 p.m. at Alfond Arena in Orono. Tickets remain for the game and can be purchased in person, starting at 6 p.m. Before and after the game, Maine will honor seniors Rob Bellamy, Nolan Boike (Arlington, Mass.), Wes Clark, Keenan Hopson, Vince Laise (Brampton, Ontario), Travis Ramsey (Lakewood, Calif.), Billy Ryan (Milton, Mass.) and Bret Tyler.