MASSACHUSETTS DEFEATS MERRIMACK, 5-2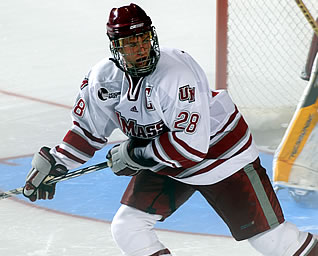 Mike Kostka had a goal and an assist for UMass
AMHERST, Mass. - The UMass hockey team jumped out to a 3-0 lead in the first period en route to a 5-2 win over Merrimack in an emotionally charged Mullins Center for Senior Night on Saturday. Seniors Matt Burto, Patrick Dineen, P.J. Fenton, Mike Kostka, and David Leaderer were each honored before the game.
The win keeps UMass (13-14-6, 8-13-5 HEA) ahead of Maine in the race for the 8th seed in the Hockey East Playoff race. The Minutemen and the Warriors will faceoff again on Saturday night in Lawler Arena at 7 p.m.
Alex Berry put UMass on the scoreboard first with his goal 6:37 into the first period. His goal was followed by a Fenton power play strike nearly seven minutes later as UMass rolled early. Chris Davis closed out the period with his sixth goal of the season. Davis also tallied two assists for a game-high three points.
Rob Ricci answered for Merrimack (12-17-4, 6-17-4 HEA) just 6:07 into the second period making the score 3-1. Neither team was able to score again in the frame.
In the third period, Berry was whistled for a hitting from behind call and given a game misconduct putting the Warriors on a five-minute power play. Just 90 seconds after the call, Chris Barton scored to pull Merrimack within a goal, 3-2.
The Minutemen managed to kill off the remainder of the power play without any further damage. Kostka scored an insurance goal with just under seven minutes to play and Matt Burto scored an empty netter with 1:41 to go to ice the win.
Paul Dainton made 23 saves in goal for UMass, while Andrew Brathwaite made 22.
Four Minutemen scored two points on the night. James Marcou and Mike Lecomte each had two assists, while Fenton and Kostka each had a goal and an assist.
David Leaderer tied the school record for career games played (146) and will break the mark on Saturday night at Merrimack. .