Friday, February 29, 2008
PROVIDENCE HOLDS OFF BOSTON COLLEGE, 3-2
Freshman Jordan Kremyr scores two goals for Friars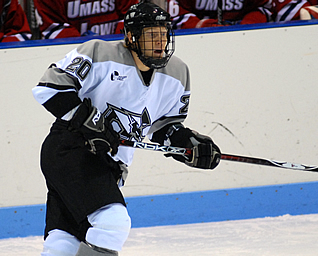 Jordan Kremyr scored two goals for the Friars
CHESTNUT HILL, Mass. - Junior Andrew Orpik netted a second-period score and sophomore Ben Smith trimmed the Boston College deficit to one goal - at 3-2 - with four minutes, 42 seconds remaining in the third period, but Providence held on for the 3-2 league victory over BC before 6,202 fans in Kelley Rink.
PC freshman Jordan Kremyr scored two first-period goals to build an early 2-0 lead. Kremyr, who entered the game with one goal in 26 collegiate games, doubled his season output with scores at 8:41 and 18:46.
Boston College cut the margin to 2-1 on Orpik's goal at 16:20 of the second period, but the visiting Friars answered just 69 seconds later on freshman Ian O'Connor's decisive score at 17:29 of the second period.
BC outshot the visiting Friars in each of the three periods and finished with a 37-24 shot advantage.
With the loss, BC is now tied with Providence for fourth place with 26 points in the Hockey East playoff picture, three points behind Boston University and Vermont. Northeastern is now is sixth place with 24 points, followed by UMass-Lowell (22 points) and Massachusetts (17).
PC senior Tyler Sims made 35 saves to gain his 13th win of the season. BC freshman John Muse finished with 21 stops.